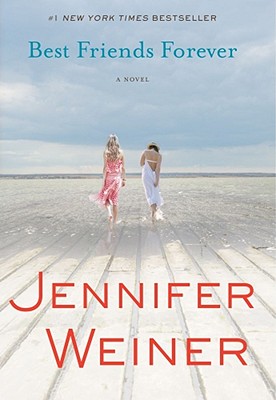 Best Friends Forever (Hardcover)
A Novel
Atria Books, 9780743294294, 368pp.
Publication Date: July 14, 2009
Other Editions of This Title:
Digital Audiobook (1/3/2011)
Paperback (5/4/2010)
Mass Market (11/24/2015)
Hardcover, Large Print, Large Print (9/1/2009)
Paperback (1/1/2011)
* Individual store prices may vary.
Description
Bestselling author Jennifer Weiner's dazzling new novel Best Friends Forever explores the impact of love, desire, and familial loss on a friendship between two young women, and how the choices they make will change their lives forever.

One of the nation's most beloved and successful writers of women's fiction, Jennifer Weiner has become a literary phenomenon with millions of copies of her books in print. Her latest work, Best Friends Forever will delight fans and critics alike, following the ups and downs of a long-time friendship between two young girls who grow up to be two very different women. Addie Downs and Valerie Adler were eight when they first met and decided to be best friends forever. But, in the wake of tragedy and betrayal during their teenage years, everything changed. Val went on to fame and fortune. Addie stayed behind in their small Midwestern town. Destiny, however, had more in store for these two. And when, twenty-five years later, Val shows up at Addie's front door with blood on her coat and terror on her face, it is the beginning of a wild adventure for two women joined by love and history who find strength together that they could not find alone.
About the Author
Jennifer Weiner is the #1 New York Times bestselling author of sixteen books, including Good in Bed, In Her Shoes, and her memoir, Hungry Heart: Adventures in Life, Love, and Writing. A graduate of Princeton University and contributor to the New York Times Opinion section, Jennifer lives with her family in Philadelphia. Visit her online at JenniferWeiner.com.
Praise For Best Friends Forever: A Novel…
"Jennifer Weiner's latest novel, Best Friends Forever, is not leaving the special shelf where it's already wedged in with other books I reread every so often because they just make me happy - novels such as Jeanette Haien's Matters of Chance, Susan Isaacs' Shining Through, Kingsley Amis' Lucky Jim, most of Barbara Pym's novels, and, of course, Pride and Prejudice. [What] earns it a place on my treasured "reread as needed" shelf is its tough emotional wisdomÉAddie's story rates a second (and, perhaps, even a third) read, too, because its unrelenting depiction of loneliness, as well as the myriad ways people can surprise themselves and each other, deserves to be savored, again and again." -- The Philadelphia Inquirer

"In Addie, Weiner has created a steely, sympathetic narrator who is vulnerable but not pathetic, unwilling to settle for disappointment despite the bad hand that most of her 33 years have dealt. The novel is a welcome addition to the author's collection of tales about strong, clever women who carve their own niche in this world -- much like Weiner." -- The Miami Herald

"Addie Downs - the Everygirl at the center of Jennifer Weiner's latest novel - just could turn out to be one of our favorite heroines of the summer...Another superlative novel by Weiner, about a big girl with a bigger heart, that will have women and men of all sizes cheering." -- USA Today

"Weiner's latest showcases her talent for creating richly drawn, realistic characters. She deftly weaves in multiple back stories and subplots and punctuates the story with plenty of humor. Highly recommended for all fans of women's fiction." -- Library Journal, starred review

"Former mousy types, rejoice! In Weiner's delicious latest, a popular girl hits trouble long after high school and only the geeky pal she once shunned can help." -- People magazine

"This beach read will win readers over with its wit and wisdom. A clever, sad and sweet turn on Thelma and Louise [with] what may be the funniest not-quite-heist ever pulled off ..." -- Publishers Weekly

"Warmly and realistically drawn... Weiner, creator of widely popular female characters, injects an element of suspense into her latest, Best Friends Forever. This book begins on an unexpected note of violence, but the friendship of the title is at its heart. Two estranged onetime high-school chums -- one now a television weathergirl and the other one of Ms. Weiner's lovable, snack-obsessed frumps -- are thrown together to find out what happened in that opening scene and to hash out old grievances. Weiner writes comfortably about the real world." -- Janet Maslin, The New York Times

"Jennifer Weiner is a master of the modern-day fairytale. In best-selling chick-lit romps like In Her Shoes, her heroines look just like us: self-deprecating, plagued by those few extra pounds - and ready for Prince Charming only once they've embraced their quirks. Weiner's latest effort is no exception, this time following a pair of friends - one fat, one thin - over two decades." -- Marie Claire

"The must-have beach read... In popular chick-lit-with-a-pulse author Jennifer Weiner's newest novel, Best Friends Forever, two childhood gal pals suffer a teenage-falling-out but reunite for an unexpected female-bonding adventure." -- Elle magazine

"A hilarious caper... resplendent in charm and poignancy...Weiner handles sorrow with a deft touch, blossoms in beautifully descriptive passages, and keeps readers glued to the page with curiosity and delight." -- Booklist, starred review
Book Videos
Coverage from NPR
or
Not Currently Available for Direct Purchase