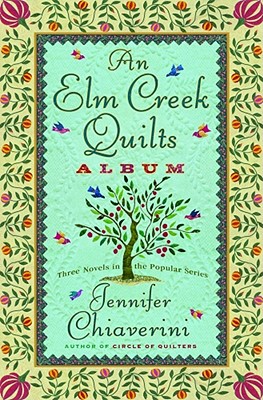 An Elm Creek Quilts Album (Hardcover)
Three Novels in the Popular Series (Elm Creek Quilts Novels (Simon & Schuster))
Simon & Schuster, 9780743296564, 759pp.
Publication Date: October 10, 2006
* Individual store prices may vary.
Description
Three complete novels, The Runaway Quilt, The Quilter's Legacy, and The Master Quilter, from New York Times bestselling author Jennifer Chiaverini. Join the Elm Creek Quilters on their continuing adventures through American history past and present, told from the unique perspective of the creative artists known as quilters. The Runaway Quilt: Alerted that her family may have had ties to the slaveholding South, Sylvia Bergstrom Compson searches her attic for her great-grandmother's quilt, a log cabin with black central squares that, according to legend, was a sign of sanctuary to escaping slaves. She also discovers the memoir of her great-grandfather's spinster sister, Gerda Bergstrom. The record reveals not only the founding of Elm Creek Manor, but also a Pennsylvania farming community divided by the issue of slavery. With the help of the Elm Creek Quilters and the clues in her ancestors' quilts, Sylvia grapples with hard truths in coming to terms with her family's past. The Quilter's Legacy: Resolving to locate her mother's heirloom quilts, Sylvia embarks on a cross-country investigation of antiques shops, quilt museums, and some unexpected places, where offers of assistance are not always what they seem. As Sylvia recovers some of the missing quilts and accepts others as lost forever, she reflects on the woman her mother was and mourns the woman she never knew. The Master Quilter: Wedding bells are ringing in the ears of the Elm Creek Quilters. Their own Sylvia planned her holiday wedding with sweetheart Andrew in complete secrecy. Eager to honor the newlyweds, the Elm Creek Quilters hasten to stitch a bridal quilt for their favorite Master Quilter. As the quilt blocks accumulate, the Elm Creek Quilters celebrate the joys of new beginnings and the ongoing success of their business -- until forces conspire to threaten their happiness and prosperity. Will the burden of closely guarded secrets strain the bonds of friendship? "A shared love for quilting," The Hartford Courant has observed, "helps bring women together. Quilters always welcome new ones and share what they know...in the popular Elm Creek Quilts novels." Here in An Elm Creek Quilts Album, Jennifer Chiaverini's captivating storytelling enacts the enduring wisdom of a joyful sisterhood of family and friends.
Praise For An Elm Creek Quilts Album: Three Novels in the Popular Series (Elm Creek Quilts Novels (Simon & Schuster))…
"New York Times bestselling author Jennifer Chiaverini reaches out to quilters and nonquilters alike in her popular Elm Creek Quilts book series. Pull up a chair -- and join her circle of friends."
-- Amy Harmon Weigman, Country Marketplace magazine



"Jennifer Chiaverini's Elm Creek novels...are a fabulous addition to the genre...complete with fascinating characters from all walks of life."
-- Sheri Melnick, Romantic Times



"A series that neatly stitches together social drama and the art of quilting."
-- Library Journal



"Even a newcomer to the popular Elm Creek Quilts series will quickly get caught up in the lives of the ladies who stitch."
-- Publishers Weekly



"Chiaverini's Elm Creek Quilts books...have become classics of their kind."
-- The Dallas Morning News
or
Not Currently Available for Direct Purchase