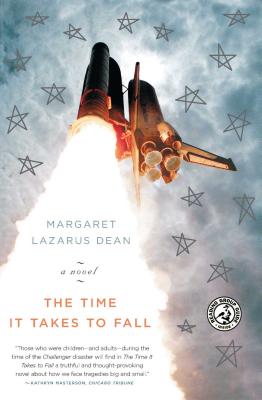 The Time It Takes to Fall
Paperback

* Individual store prices may vary.
Description
It is the early 1980s, and America is in love with space. Growing up in the shadow of Cape Canaveral, young Dolores Gray has it particularly bad: she dreams of becoming an astronaut. At school, Dolores finds herself caught between her desire for popularity and her secret friendship with the smartest and most unpopular boy in her class, whose father is NASA's Director of Launch Safety. At home, discord begins to grow between her parents when her father's job as a NASA technician is threatened. Looking for escape, Dolores loses herself in her scrapbook, where she files away newspaper articles about the astronauts and the shuttles, weather reports on launch scrubs, and stories about her idol, Judith Resnik. Then, on the morning of January 28, 1986, seventy-three seconds after liftoff, the space shuttle Challenger explodes, killing all seven astronauts on board -- including Judith Resnik. It is a moment that shakes America to its core, and nowhere is it more deeply felt than in central Florida. Dolores becomes determined to reconstruct what went wrong, both in her parent's marriage and at NASA, in the hope that she can save her father's job and keep her family together. The Time It Takes to Fall is a coming-of-age novel that deftly weaves the story of one family's drama into the larger picture of a touchstone event in American history. It is at once an intimate look at a young girl's loss of innocence and a portrait of America's loss of innocence -- the end of an era that romanticized manned space flight and would never be the same again.
Praise For The Time It Takes to Fall…
"Margaret Dean's beautifully adroit first novel is about a fine intelligence painfully located in a girl who can barely stand to be smart, and of a whole generation lifted up, and then brought down, by the Challenger disaster. The Time It Takes to Fall is a story of liftoffs and crash landings, of growing up and growing down. It is at once a meditation on American life -- on what we know and what we can't or don't know -- and a suspenseful page-turner."
-- Charles Baxter, author of Saul and Patsy and The Feast of Love



"Taking as her backdrop the Challenger shuttle disaster, Dean subtly probes the hidden design flaws at the heart of the American family. Emulating the engineers and astronauts her characters orbit, her work is equal parts cool precision and wondrous dream. If a novel can be likened to a spacecraft -- both are an intricate assembly of hundreds of thousands of parts -- Dean's is flawlessly constructed, ready to launch the reader on a soaring emotional trajectory."
-- Peter Ho Davies, author of Equal Love and The Ugliest House in the World



"Affecting, original debut about a girl's coming-of-age, set against the backdrop of the NASA space-shuttle program...an accomplished first novel about the American family."
-- Kirkus (starred review)
Simon & Schuster, 9780743297233, 336pp.
Publication Date: February 1, 2008
or
Not Currently Available for Direct Purchase