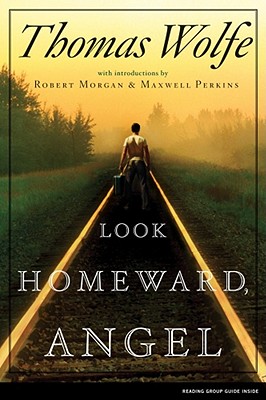 Look Homeward, Angel
Paperback

* Individual store prices may vary.
Other Editions of This Title:
Digital Audiobook (10/30/2008)
Description
The spectacular, history-making first novel about a young man's coming of age by literary legend Thomas Wolfe, first published in 1929 and long considered a classic of twentieth century literature.

A legendary author on par with William Faulkner and Flannery O'Connor, Thomas Wolfe published Look Homeward, Angel, his first novel, about a young man's burning desire to leave his small town and tumultuous family in search of a better life, in 1929. It gave the world proof of his genius and launched a powerful legacy.

The novel follows the trajectory of Eugene Gant, a brilliant and restless young man whose wanderlust and passion shape his adolescent years in rural North Carolina. Wolfe said that Look Homeward, Angel is "a book made out of my life," and his largely autobiographical story about the quest for a greater intellectual life has resonated with and influenced generations of readers, including some of today's most important novelists. Rich with lyrical prose and vivid characterizations, this twentieth-century American classic will capture the hearts and imaginations of every reader.
Praise For Look Homeward, Angel…
"In 1949, when I was sixteen, I stumbled on Thomas Wolfe, who died at thirty-eight in 1938, and who made numerous adolescents aside from me devotees of literature for life. In Wolfe, everything was heroically outsized, whether it was the voracious appetite for experience of Eugene Gant, the hero of his first two novels, or of George Webber, the hero of his last two. The hero's loneliness, his egocentrism, his sprawling consciousness gave rise to a tone of elegiac lyricism that was endlessly sustained by the raw yearning for an epic existence—for an epic American existence. And, in those postwar years, what imaginative young reader didn't yearn for that?"
— Philip Roth

"Language as rich and ambitious and intensely American as any of our novelists has ever accomplished." -- Charles Frazier, author of Cold Mountain and Thirteen Moons

"Look Homeward, Angel is one of the most important novels of my life. . . . It's a wonderful story for any young person burning with literary ambition, but it also speaks to the longings of our whole lives; I'm still moved by Wolfe's ability to convey the human appetite for understanding and experience." -- Elizabeth Kostova, author of The Historian

"Wolfe made it possible to believe that the stuff of life, with all its awe and mystery and magic, could by some strange alchemy be transmuted to the page." -- William Gay, author of The Long Home

"As so many other American boys had before and have since, I discovered a version of myself in Look Homeward, Angel, and I became intoxicated with the elevated, poetic prose." -- Robert Morgan, author of Gap Creek
Scribner, 9780743297318, 544pp.
Publication Date: October 10, 2006
About the Author
Thomas Wolfe (1900–1938) was born in Asheville, North Carolina, and educated at the University of North Carolina and Harvard University. He taught English at New York University and traveled extensively in Europe and America. Wolfe created his legacy as a classic American novelist with Look Homeward, Angel; Of Time and the River; A Stone, a Leaf, a Door; and From Death to Morning.