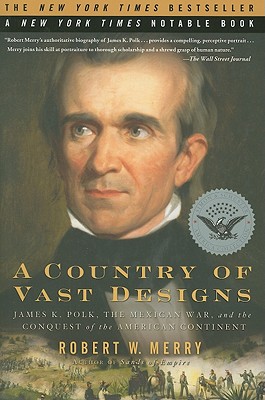 A Country of Vast Designs (Paperback)
James K. Polk, the Mexican War and the Conquest of the American Continent
Simon & Schuster, 9780743297448, 592pp.
Publication Date: November 2, 2010
* Individual store prices may vary.
Description
A New York Times Bestseller and New York Times Notable Book

Robert Merry's brilliant and highly acclaimed history of a crucial epoch in U.S. history—the presidency of James K. Polk, "our most underrated president" (Walter Isaacson, author of Einstein).

In a one-term presidency, James K. Polk completed the story of America's Manifest Destiny—extending its territory across the continent by threatening England with war and manufacturing a controversial and unpopular two-year war with Mexico. "A crucial architect of modern America, James K. Polk deserves to be elevated out of the mists of history" (Jon Meacham, author of American Lion).
About the Author
Robert Merry is the editor of The National Interest. He has been a Washington correspondent for The Wall Street Journal and the executive editor of the Congressional Quarterly. He has written for The New York Times, The Wall Street Journal, The Weekly Standard, The National Review, The American Spectator, and The National Interest. He has appeared on Meet the Press, Face the Nation, Newsmakers, and many other programs. The author of McKinley, he lives in McLean, Virginia.
Praise For A Country of Vast Designs: James K. Polk, the Mexican War and the Conquest of the American Continent…
"Robert Merry's authoritative biography of James K. Polk. . . provides a compelling, perceptive portrait. . . Merry joins his skill at portraiture to thorough scholarship and a shrewd grasp of human nature."

–The Wall Street Journal

"Filled with intricate stories of personal conflict, psychological gamesmanship, and unintended consequences. . . one of the most astute and informative historical accounts yet written about national politics, and especially Washington politics, during the decisive 1840s."

--The New York Times Book Review

"Polk was our most underrated President. He made the United States into a continental nation. Bob Merry captures the controversial and the visionary aspects of his presidency in a colorful narrative tale populated by great characters such as Jackson, Clay, and Can Buren."

–Walter Isaacson, author of Einstein: His Life and Universe

"[Merry] brings a historian's perspective, a journalist's nose for the story and a novelist's eye to one of our country's most dramatic and defining moments. In strong, precise and elegant prose, Mr. Merry brings the key players of the day to life in terms of both personal characteristics and the causes they personified."
--Washingtonian