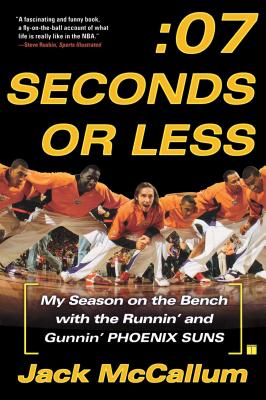 Seven Seconds or Less
My Season on the Bench with the Runnin' and Gunnin' Phoenix Suns
Paperback

* Individual store prices may vary.
Description
Sports Illustrated's chief NBA writer, Jack McCallum, only planned to spend the preseason with the Phoenix Suns as an "assistant coach" -- and then write a story about his experiences. Instead, he stayed on with the Suns throughout their exciting and controversial 2005-2006 season. Gaining access to everything from locker-room chats with superstar point guard Steve Nash, to coaches' meetings with maverick coach Mike D'Antoni, McCallum learned what makes this wildly popular, innovative, and international assemblage of talented players and brilliant coaches tick -- making Seven Seconds or Less an all-access look at one of the greatest shows in sports.
Praise For Seven Seconds or Less: My Season on the Bench with the Runnin' and Gunnin' Phoenix Suns…
"A fascinating and funny book, a fly-on-the-wall account of what life is really like in the NBA." -- Steve Rushin, Sports Illustrated

"A must-read for NBA fans. . . . The most detailed view yet of what really transpires to make, or break, an NBA team." -- San Antonio Express-News

"A fascinating fly-on-the-wall look at how coach Mike D'Antoni and his staff led an injury-plagued team to the Western Conference Finals." -- Sports Illustrated

"A great read for Suns and NBA fans, and great insight into life beyond the locker room door." -- Scottsdale Tribune

"This is one of the best NBA books I've read, and I am pretty sure I have read them all." -- Detroit News

"A glimpse into NBA life that should be cherished by hoops fans for years to come." -- Toronto Star

"A Hall of Fame Book by a Hall of Fame writer." -- Mike Breen, ABC/ESPN broadcaster

"McCallum writes about basketball the way only a few have ever played it: With a grace and insight that changes the way you look at the game." -- Steve Rushin, Sports Illustrated

"McCallum delivers again!" -- Bill Simmons, The Sports Guy, espn.com
Touchstone, 9780743298131, 320pp.
Publication Date: May 1, 2007
About the Author
Jack Mccallum has been at Sports Illustrated since 1981 and the chief NBA writer since 1985. His work has appeared in the Best American Sports Writing Anthology, and in 2004 he won the Basketball Hall of Fame's Curt Gowdy Media Award for outstanding writing. He is the author of Unfinished Business: On and Off the Court with the 1990-91 Boston Celtics and coauthor of Foul Lines: A Pro Basketball Novel. He lives in Bethlehem, Pennsylvania.