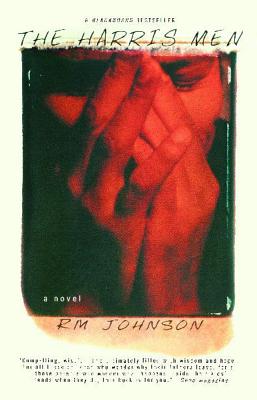 The Harris Men (Paperback)
Simon & Schuster, 9780743400596, 336pp.
Publication Date: April 1, 2000
Other Editions of This Title:
Mass Market Paperback (8/1/2005)
* Individual store prices may vary.
Description
RM Johnson's extraordinary debut is a stirring family portrait that resonates with emotion and wit, as a father faces death -- and the three sons he abandoned so many years before.
"Mr. Harris, I'm sorry, but you have cancer." Although devastated to learn he has just one year to live, fifty-five-year-old Julius Harris has always known that the day would come when he would pay for walking out on his wife and three children twenty years earlier. Now, with a sudden and passionate determination to make his family whole again, Julius begins trying to find a way back to his sons.
Caleb, the youngest, struggling to support a son and make his way in a relentless world, couldn't care less about his own absentee father. Middle son Marcus can't abide even his father's memory, which gets in the way of his committing to the one woman who has turned his life around. And Austin, Julius' eldest child, so adores what he remembers of his father that he's following in his footsteps, abandoning his wife and children just as Julius had done.
Inspired by RM Johnson's own fragile family history, The Harris Men is his poignant exploration of the increasing problem of absentee fathers -- and of the compromises made by the families they leave behind. As the Harris men grapple with their fears and their choices, Johnson gets to the very heart of what it means to be a man.
About the Author
R.M. Johnson is the author of ten books, including bestsellers The Harris Family and The Million Dollar Divorce. He holds an MFA in Creative Writing from Chicago State University. He lives in Atlanta, Georgia.
Praise For The Harris Men…
Code magazine Compelling, wistful, and ultimately filled with wisdom and hope....For all those children who wonder why they fathers leave, for all those parents who wonder what happens inside their kids' heads when they do, this book is for you.

E. Lynn Harris This story is so compassionately and truthfully written that with it, men will undoubtedly identify, and women will thankfully learn. The Harris Men is a superb novel. It is profoundly written, deeply engaging, and long overdue.

Mosaic Literary Magazine A critically honest stance that should set the standars for other books to come.

Library Journal First novelist Johnson's writing is clear and straightforward.... Readers will root for the underdog and welcome the subtle messages.... RM Johnson is an author to watch.

Mosaic Literary Magazine Johnson proves that the key to a good story is in its telling.... The Harris Men's strength is in its honesty, which speaks volumes to readers who, in some way, shape, or form, carry the baggage of struggles with family.

The Black Book Review Johnson's novel reminds us that the importance of men as a presence in the lives of their sons cannot be understated. Hopefully, as more male authors tackle the issue of absentee fathers, we will find our way to preempt the blame we seem to prefer with a measure of understanding. Perhaps together we can find ways to aid a father's return to his children. After all, we are in need.

E. Lynn Harris The Harris Men is an insightful novel that reaches into the deepest recesses of a man's heart. It dispels the rumors of why we sometimes do what we do: abandon our children, leave our wives, run from commitment.
or
Not Currently Available for Direct Purchase