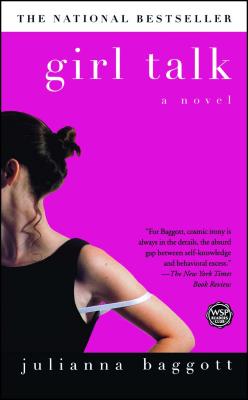 Girl Talk (Paperback)
Washington Square Press, 9780743400831, 272pp.
Publication Date: January 1, 2002
* Individual store prices may vary.
Description
Lissy Jablonski was fifteen during the summer of 1985. That was the summer her father, a soft-spoken gynecologist, up and left her mother for a redheaded bank teller. The same summer Lissy and her mother disappeared from their quiet New Hampshire lives to have an adventure of their own amid a cast of unlikely characters, including a Valium-addicted ex-debutante and a suspected mobster. The summer the reliably comforting "girl talks" with her mother began to reveal startling secrets.
Now an almost-thirty-year-old advertising executive in Manhattan, faced with her father's imminent death and newly pregnant by her married ex-lover, an unmoored Lissy finds herself looking back across the years. Contending with her affections for an old flame and his doomed marriage to a Korean stripper named Kitty Hawk, as well as the tangible legacies of that unmentionable summer with her mother, she realizes that she has become more like her mother than she ever could have imagined.
About the Author
Julianna Baggott'
s work has appeared in such publications as
The Southern Review, Ms.
magazine,
Poetry, Best American Poetry 2000,
and read on NPR's
Talk of the Nation.
The nationally bestselling author of
The Miss America Family
and
Girl Talk,
as well a book of poems entitled
This Country of Mothers,
she teaches at Florida State University and lives in Tallahassee with her husband and three children. Visit her website at
www.juliannabaggott.com
.
Praise For Girl Talk…
"For Baggott, cosmic irony is always in the details, the absurd gap between self-knowledge and behavioral excess. Baggott's brand of witty psychological observation is dark and corrosive...she has a knack for finding the oxymoronic in any situation."

" A smart, quirky chronicle of mother-daughter bonding and binding."

"What really makes this book a good read is the way Baggott allows her readers to get into her characters' feelings....She kindly allows one to care about how each character reacts to one another."

"And it is Girl Talk—a breathless novel that manages to be both funny and bleak, poignant and bitchy—that will make Baggott famous."

"Baggott's deft movement of her material is often lyrical and poignant."