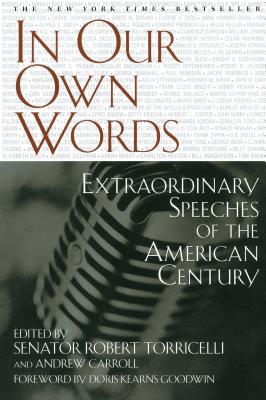 In Our Own Words: Extraordinary Speeches of the American Century (Paperback)
Extraordinary Speeches of the American Century
Washington Square Press, 9780743410526, 480pp.
Publication Date: October 1, 2000
Description
This bestselling collection of American oratory is the most comprehensive anthology of its kind: a record of twentieth-century America captured in the words that inspired and infuriated, electrified and galvanized its people. Decade by decade, generation to generation, history unfolds in the famous and infamous expressions of Americans from all walks of life: poets and politicians, artists and astronauts, soldiers and sports legends, preachers and pacifists, humorists and hell-raisers.
In Our Own Words bears witness to the forces that swept our nation -- two World Wars, Prohibition, the Depression, the Cold War, the Civil Rights era, Vietnam, the Reagan era, and beyond -- and features the voices of Theodore Roosevelt * Booker T. Washington * Mark Twain * Emma Goldman * Woodrow Wilson * Marcus Garvey * Oliver Wendell Holmes * George S. Patton * Pearl Buck * Orson Welles * Jackie Robinson * Joseph McCarthy * Rachel Carson * Vince Lombardi * Barry Goldwater * John F. Kennedy * J. Edgar Hoover * Dr. Martin Luther King Jr. * Malcolm X * Richard M. Nixon * Frank Zappa * Elie Wiesel * Charlton Heston * Ryan White * Duke Ellington * Billy Graham * Barbara Jordan * Bill Clinton * Cesar Chavez * Helen Keller...and dozens of others who tell the story of their age from their podiums and soapboxes, courtrooms and convention halls.
Praise For In Our Own Words: Extraordinary Speeches of the American Century…
Stephen Ambrose


Senator Torricelli's selection of great american speeches...makes me...glad that we live in America.


Robert Shrum
presidential speechwriter

In Our Own Words is history at its best, because it is neither filtered nor synthesized but is presented in the words of the speakers themselves


Library Journal

Uniquely textured....There is no comparable one-volume collection of twentieth-century commentary that evokes such a diversity of viewpoints.


New York Post

A fine snapshot....All of the great moral and social debates can be found here.


Charlie Rose

Just amazing....It really is a history of our time.
Advertisement