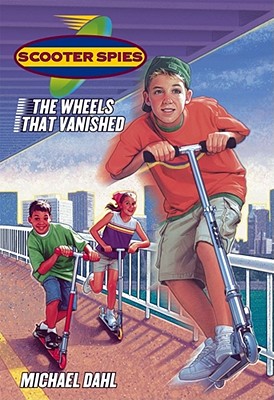 The Wheels That Vanished (Scooter Spies #1) (Paperback)
Aladdin Paperbacks, 9780743418775, 80pp.
Publication Date: December 1, 2000
* Individual store prices may vary.
Description
Eleven-year-old Max Martin and his fellow scooter riders Oscar Santiago and Lily Blue (and her pet chameleon, Speck) are hot on the trail of a thief in a puzzling case: The Wheels That Vanished. Max saw a strange green bicycle whiz by him onto a bridge. But it never came out the other end How could it have vanished? The thief on the bicycle stole two very important things, and now it's up to Max, Oscar, and Lily to use their clues, and their scooters, to find them. It will take the best scooter skills they have, and a wild scooter ride, for the three friends to catch the crook.
About the Author
Michael Dahl is a theater director, actor, and comedian in Minneapolis, Minnesota. He has written poems, plays, and books, including the Scooter Spies mysteries: The Wheels That Vanished and The Ghost That Barked. He is also the author of the Finnegan Zwake mystery series: The Horizontal Man, The Worm Tunnel, and The Ruby Raven. Dahl has a wide variety of unusual creatures in his household: Venus's-flytraps, fiddler crabs, African dwarf frogs, an elementary schoolteacher, and an Australian red-heeler named Gus. But so far, no skinks! Michael Dahl loves to hear from his fans, and you can e-mail him at finnswake@aol.com.