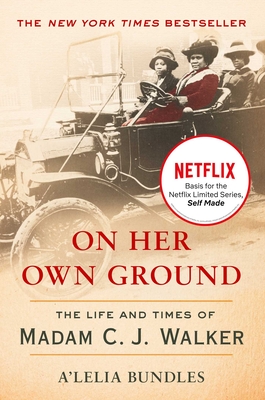 On Her Own Ground (Paperback)
The Life and Times of Madam C.J. Walker
Scribner, 9780743431729, 416pp.
Publication Date: January 1, 2002
* Individual store prices may vary.
Description
Soon to be a Netflix series starring Octavia Spencer

On Her Own Ground is the first full-scale, definitive biography of Madam C. J. Walker—the legendary African American entrepreneur and philanthropist—by her great-great-granddaughter, A'Lelia Bundles.

The daughter of slaves, Madam C. J. Walker was orphaned at seven, married at fourteen and widowed at twenty. She spent the better part of the next two decades laboring as a washerwoman for $1.50 a week. Then—with the discovery of a revolutionary hair care formula for black women—everything changed. By her death in 1919, Walker managed to overcome astonishing odds: building a storied beauty empire from the ground up, amassing wealth unprecedented among black women and devoting her life to philanthropy and social activism. Along the way, she formed friendships with great early-twentieth-century political figures such as W.E.B. Du Bois and Booker T. Washington.

On Her Own Ground is not only the first comprehensive biography of one of recent history's most amazing entrepreneurs and philanthropists, it is about a woman who is truly an African American icon. Drawn from more than two decades of exhaustive research, the book is enriched by the author's exclusive access to personal letters, records and never-before-seen photographs from the family collection. Bundles also showcases Walker's complex relationship with her daughter, A'Lelia Walker, a celebrated hostess of the Harlem Renaissance and renowned friend to both Langston Hughes and Zora Neale Hurston. In chapters such as "Freedom Baby," "Motherless Child," "Bold Moves" and "Black Metropolis," Bundles traces her ancestor's improbable rise to the top of an international hair care empire that would be run by four generations of Walker women until its sale in 1985. Along the way, On Her Own Ground reveals surprising insights, tells fascinating stories and dispels many misconceptions.
About the Author
A'Lelia Bundles, an award-winning network television news producer and former ABC News Washington deputy bureau chief, is director of talent development for ABC News. She is the author of numerous essays, articles, and encyclopedia entries about her great-great-grandmother, Madam C.J. Walker, and a young-adult biography, Madam C.J. Walker: Entrepreneur, which won an American Book Award. She lives in Alexandria, Virginia. Visit her Web site at MadamCJWalker.com.
Praise For On Her Own Ground: The Life and Times of Madam C.J. Walker…
USA Today On Her Own Ground is a fascinating book about a fascinating woman....A wonderful story of an entrepreneur, but also a story about a dedicated African-American woman who was committed to giving her time and money to her community.

Chicago Tribune It is like finding out the secret sources of your past to read On Her Own Ground, a graceful biography by Walker's great-great-granddaughter....Bundles tells the tale with obvious affection and impressive scholarship....Under Bundles' deft handling, Walker's fable comes up fresh and inspirational. However we dress our hair, because of her, we daughters stand taller on our own ground.

The Philadelphia Inquirer The life of Madam C.J. Walker is one of the great success stories of American history. The wonder of it is that On Her Own Ground is the first full-blown biography of an amazing woman.

The New York Times Well-paced and well-written...as much social history as biography, filled with the detail and texture of culture and politics.

Chicago Sun-Times More than a history lesson in her rise to fame, On Her Own Ground offers inspiration to women -- regardless of race -- on how to succeed against all odds.

The Atlanta Journal-Constitution Bundles always knew, on some level, that this story was hers to tell. And she tells it with a controlled passion and an integrity that would have made Madam Walker proud.

Ishmael Reed Madam Walker is the key to understanding her generation. She had to battle the society that consigned her to doing its laundry...yet she triumphed to become one of the most fabulous African-American figures of the twentieth century.