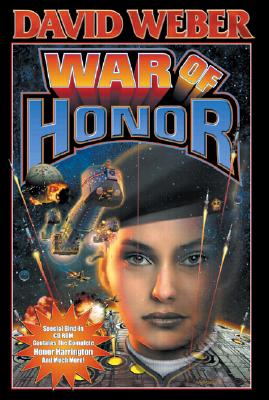 War of Honor
Hardcover

* Individual store prices may vary.
Other Editions of This Title:
Digital Audiobook (8/31/2002)
Mass Market (11/1/2003)
Leather / fine binding (2/5/2019)
MP3 CD (4/15/2014)
MP3 CD (7/1/2013)
MP3 CD (7/1/2013)
Compact Disc (7/1/2013)
Compact Disc (7/1/2013)
Description
NO ONE WANTED ANOTHER WAR
Thomas Theisman didn't. After risking his life and a fresh round of civil war to overthrow the Committee of Public Safety's reign of terror and restore the Republic of Haven's ancient Constitution, an interstellar war was the last thing he wanted.
Baron High Ridge didn't. The Prime Minister of Manticore was perfectly happy with the war he had. No one was shooting anyone else at the moment, and as long as he could spin out negotiations on the formal treaty of peace, his government could continue to milk all those "hostilities only" tax measures for their own partisan projects.
His Imperial Majesty Gustav didn't. Now that the fighting between the Star Kingdom and the Havenites had ended, the Andermani Emperor had his own plans for Silesia, and he was confident he could achieve them without a war of his own.
Protector Benjamin didn't. His people had made too deep a commitment to the Manticoran Alliance, in blood as well as treasure, for him to want to risk seeing it all thrown away.
And Honor Harrington certainly didn't. The "Salamander" had seen the inside of too many furnaces already, knew too much about how much war cost.
Unfortunately, what they wanted didn't matter....
Baen, 9780743435451, 880pp.
Publication Date: September 30, 2002
About the Author
With more than eight million copies of his books in print and 33 titles on the New York Times bestseller list, David Weber is a science fiction powerhouse. In the vastly popular Honor Harrington series, the spirit of C.S. Forester's Horatio Hornblower and Patrick O'Brian's Master and Commander lives on—into the galactic future. Books in the Honor Harrington and Honorverse series have appeared on 21 bestseller lists, including The Wall Street Journal, The New York Times, and USA Today. Additional Honorverse collaborations include the spin-off miniseries Manticore Ascendant with New York Times best-selling author, Timothy Zahn; and with Eric Flint, Crown of Slaves and Cauldron of Ghosts contribute to his illustrious list of New York Times and international bestseller lists.

Best known for his spirited, modern-minded space operas, Weber is also the creator of the Oath of Swords fantasy series and the Dahak saga, a science fiction and fantasy hybrid. Weber has also engaged in a steady stream of best-selling collaborations: the Starfire Series with Steve White; The Empire of Man Series with John Ringo; the Multiverse Series with Linda Evans and Joelle Presby; and the Ring of Fire Series with Eric Flint.

David Weber makes his home in South Carolina with his wife and children.
or
Not Currently Available for Direct Purchase