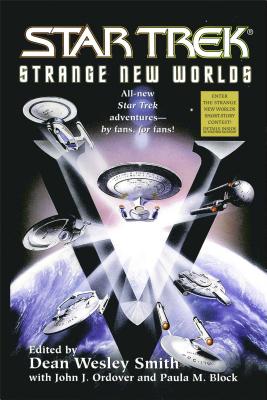 Star Trek (Paperback)
Strange New Worlds V (Star Trek )
Pocket Books/Star Trek, 9780743437783, 384pp.
Publication Date: May 1, 2002
Other Editions of This Title:
Paperback (5/1/2001)
Paperback (7/10/2007)
Paperback (5/1/2000)
Paperback (8/22/2006)
Paperback (6/29/2004)
Paperback (11/1/1999)
Paperback (7/1/1998)
Paperback (7/19/2005)
* Individual store prices may vary.
Description
Back by popular demand! Our fifth anthology featuring original Star Trek,® Star Trek: The Next Generation,® Star Trek: Deep Space Nine,® and Star Trek: Voyager® stories written by Star Trek fans, for Star Trek fans!
The past five Strange New Worlds competitions have drawn thousands of submissions. This new galaxy of amazing stories, proves that our writers keep on expanding the boundaries of their collective imaginations.
Strange New Worlds V features newly released stories spanning the twenty-third and twenty-fourth centuries, from the early days of Captain Kirk and his crew to the later generations of Captains Picard, Sisko, and Janeway. These unforgettable stories explore and examine the past and future of Star Trek from many different perspectives.
Join Strange New Worlds in its thrilling quest to uncover the most compelling Star Trek fiction this side of the Galactic Barrier!
About the Author
Considered one of the most prolific writers working in modern fiction, USA TODAY bestselling writer, Dean Wesley Smith published far over a hundred novels in forty years, and hundreds of short stories across many genres. He currently produces novels in four major series, including the time travel Thunder Mountain novels set in the old west, the galaxy-spanning Seeders Universe series, the urban fantasy Ghost of a Chance series, and the superhero series staring Poker Boy. During his career he also wrote a couple dozen Star Trek novels, the only two original Men in Black novels, Spider-Man and X-Men novels, plus novels set in gaming and television worlds.