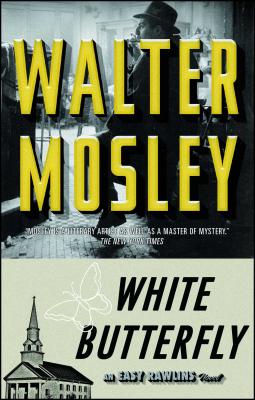 White Butterfly (Paperback)
An Easy Rawlins Novel (Easy Rawlins Mystery #3)
Washington Square Press, 9780743451772, 320pp.
Publication Date: October 1, 2002
* Individual store prices may vary.
Description
The police don't show up on Easy Rawlins's doorstep until the third girl dies. It's Los Angeles, 1956, and it takes more than one murdered black girl before the cops get interested. Now they need Easy. As he says: "I was worth a precinct full of detectives when the cops needed the word in the ghetto." But Easy turns them down. He's married now, a father -- and his detective days are over. Then a white college coed dies the same brutal death, and the cops put the heat on Easy: If he doesn't help, his best friend is headed for jail. So Easy's back, walking the midnight streets of Watts and the darker, twisted avenues of a cunning killer's mind....
About the Author
Walter Mosley is the New York Times bestselling author of five Easy Rawlins mysteries: Devil in A Blue Dress, A Red Death, White Butterfly, Black Betty, and A Little Yellow Dog; three non-mystery novels, Blue Light, Gone Fishin', and R. L.'s Dream; two collections of stories featuring Socrates Fortlow, Always Outnumbered, Always Outgunned, for which he received the Anisfield Wolf Award, and which was an HBO movie; and a nonfiction book, Workin' On The Chain Gang. Mosley is also the author of the Leonid McGill, and Fearless Jones mystery series, The Tempest Tales and Six Easy Pieces. He is a former president of the Mystery Writers of America, a founder of the PEN American Center Open Book Committee, and is on the board of directors of the National Book Awards. A native of Los Angeles, he now lives in New York City.
Praise For White Butterfly: An Easy Rawlins Novel (Easy Rawlins Mystery #3)…
"Wonderful page-turning excitement....Like Sue Grafton, Sara Paretsky, and others, Mosley has been reconstructing the hard-boiled tradition from the bottom up....Easy Rawlins moves through mean streets even Marlowe wouldn't walk."

"With White Butterfly, Walter Mosley has established himself as one of America's best mystery writers."

"Rawlins...might be the best American character to appear in quite some time."

"Startling and powerful…Mosley handles well the conflict between good and downright dirty that drives the great street detectives of the crime genre."

"If [Philip] Marlowe was tough, Easy has to be even tougher."

"Crackles with the suspense and wit of vintage Raymond Chandler and Dashiell Hammett, but its keen commentaries on racial issues make it a vital piece of modern fiction…Mosley has earned a place among contemporary masters of crime fiction."