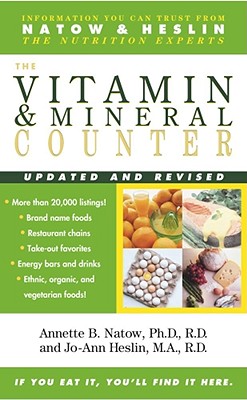 The Vitamin and Mineral Food Counter (Mass Market)
Pocket Books, 9780743463775, 416pp.
Publication Date: April 1, 2004
* Individual store prices may vary.
Description
A brand-new addition to the hugely popular food counter series by acclaimed nutritionists Annette B. Natow and Jo-Ann Heslin.

Getting all your essential vitamins and minerals has never been easier!

Will vitamins and minerals keep you healthy? How much do you need? Which foods are the best sources? Is it better to eat raw or cooked foods? Now, for the first time, nationally known nutritionists Annette Natow and Jo-Ann Heslin offer a guide to the vitamin and mineral content of thousands of brand name and generic foods. Get the latest information on the eleven "marker" vitamins and minerals—the ones that ensure you'll meet all your vitamin and mineral needs. Features include:

Food values for vitamin A, thiamin, riboflavin, niacin, folic acid, vitamin C, calcium, potassium, sodium, iron, and zinc Portion size plus calorie counts for every food listed Warnings about prescription and over-the-counter drug ddinteractions Daily recommended intakes and safe upper limits A quiz to help you evaluate your nutrient needs

The Vitamin and Mineral Food Counter is your essential reference to healthy eating!
About the Author
Annette B. Natow, Ph.D., C.D.N., and Jo-Ann Heslin, M.A., R.D., C.D.N. are the authors of thirty books on nutrition, including two college textbooks. Both are former faculty members of Adelphi University and the State University of New York, Downstate Medical Center. They were the editors of the Journal of Nutrition for the Elderly for 23 years and serve as editorial board members for Environmental Nutrition Newsletter, Vitality, and American Baby Magazine.

For more information on Annette B. Natow and Jo-Ann Heslin, plus articles and advice, go to: www.thenutritionexperts.com.

Jo-Ann Heslin, MA, RD, is a professionally trained, registered dietitian and also a regular columnist for HealthNewsDigest.com. She is the coauthor of more than thirty books on nutrition. For more information, visit: TheNutritionExperts.com.