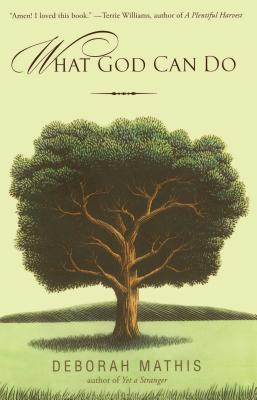 What God Can Do
How Faith Changes Lives for the Better
Paperback

* Individual store prices may vary.
Description
Growing up as the daughter of a Baptist minister, Deborah Mathis has always known -- through good times and bad -- the graceful presence and consummate mercy of God. Now, in What God Can Do, Mathis bears witness to God's goodness, presenting true stories of ordinary people, their accounts of life's trials and triumphs, and how this higher being can work simple miracles -- even for the least devout among us. Organized around ten different ways that God works in people's lives, including Healing, Forgiveness, and Transformation, this collection depicts the soft and subtle miracles that most people chalk up to mere coincidence. In a time of wide-scale war and civil unrest, when so much is uncertain and so many turn to prayer for answers, What God Can Do is sure to touch, console, and inspire anyone seeking spiritual nourishment and the reassurance that there is something greater shaping our lives. Deborah Mathis, author of Yet a Stranger: Why Black Americans Still Don't Feel at Home, is an accomplished journalist, writer, and researcher. A regular commentator on America's Black Forum, she has also appeared on The Oprah Winfrey Show, Good Morning America, and Frontline. She lives in Ocoee, Florida, and Washington, D.C.
Atria Books, 9780743476416, 240pp.
Publication Date: April 17, 2007