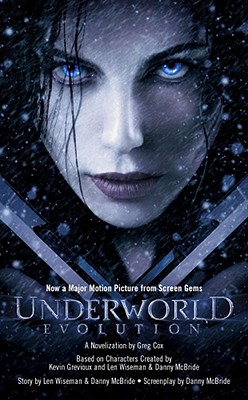 Underworld
Evolution
Mass Market Paperback

* Individual store prices may vary.
Description
THE WAR IS OVER.
BUT THE TRUE HORROR HAS ONLY JUST BEGUN....
For more than six hundred years, Selene was a Death Dealer, a vampire warrior dedicated to the destruction of her people's savage enemies: the werewolves. But then she learned the shocking truth behind the ancient conflict and turned against her undead masters.
For all of his mortal life, Michael was an ordinary human, ignorant of the night's darkest mysteries -- until he found himself caught in the middle of a shadow war between immortal rivals. Bitten by both a lycan and a vampire, he has now become a hybrid creature whose ultimate potential remains unknown.
Together, Selene and Michael have become outcasts -- and targets, for a long-buried menace has risen from the depths of history in search of unholy vengeance. Now, in order to survive, Selene must uncover a terrible secret hidden deep within the shadows of her own forgotten past....
Pocket Star, 9780743480734, 288pp.
Publication Date: December 27, 2005
or
Not Currently Available for Direct Purchase