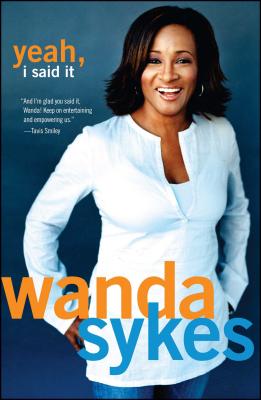 Yeah, I Said It (Paperback)
Atria Books, 9780743482714, 247pp.
Publication Date: September 13, 2005
Description
Yeah, I Said It
...about President George W. Bush: "Sometimes I feel like we're trapped on a bad reality show. He's not really a president. He's a construction worker. If he gets reelected, he gets a million dollars and we get screwed." Michael Jackson: "He still hasn't molested as many boys as the Catholic Church." Abortion: "It's nobody's business to tell another woman what to do with her body. Let's leave that up to Joan and Melissa Rivers."
Imbued with her razor-sharp voice, sidesplitting candor, and her trademark brand of comedy, the essays in Yeah, I Said It showcase Wanda at her uproarious, uncensored best.
Praise For Yeah, I Said It…
The Artist Formerly Known as Dave Chappelle Throughout my career I've heard comedians say, in one fashion or another, that "chicks ain't funny."...But then there's Wanda. I've seen her since she started in '89 shatter that myth on a nightly basis. As a matter of fact, not only did we male comics respect her, many feared following her. No man wants to get beat by a girl. She's an anomaly, and one of my favorite practitioners of stand-up comedy from any gender. Every time I watch her work I smile, because she makes me remember why I wanted to do comedy in the first place. For pussy. Do your thing, Wanda.



Tavis Smiley author, television and radio host And I'm glad you said it, Wanda! Keep on entertaining and empowering us.



Bob Costas broadcaster, NBC and HBO Considering all the endless nights Wanda and I have spent clubbing 'til dawn, I have no earthly idea how she had time to complete this book, but all fans of great literature are thankful she did.



Jane Fonda I laughed out loud all the way through.
Advertisement