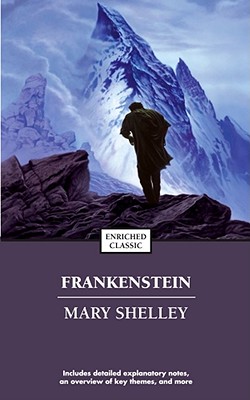 Frankenstein (Enriched Classics) (Mass Market)
Simon & Schuster, 9780743487580, 352pp.
Publication Date: May 1, 2004
Other Editions of This Title:
Paperback (5/20/2016)
Paperback (1/27/2018)
Paperback (1/24/2019)
Paperback (7/20/2015)
Paperback (3/3/2018)
Paperback (10/29/2016)
Paperback (2/8/2016)
Paperback (6/28/2017)
Paperback (6/15/2017)
Paperback (7/1/2016)
Paperback (10/8/2016)
Paperback (6/9/2015)
Paperback (8/19/2013)
Paperback (5/24/2017)
Paperback (5/24/2014)
Paperback (3/7/2017)
Paperback (8/7/2016)
Paperback, Large Print (5/13/2016)
Paperback, Large Print (11/16/2016)
* Individual store prices may vary.
Description
A timeless, terrifying tale of one man's obsession to create life—and the monster that became his legacy. "If ever a book needed to be placed in context, it's Frankenstein" (The New York Times Book Review).

ENDURING LITERATURE ILLUMINATED BY PRACTICAL SCHOLARSHIP

A timeless, terrifying tale of one man's obsession to create life—and the monster that became his legacy.

EACH ENRICHED CLASSIC EDITION INCLUDES:
• A concise introduction that gives readers important background information
• A chronology of the author's life and work
• A timeline of significant events that provides the book's historical context
• An outline of key themes and plot points to help readers form their own interpretations
• Detailed explanatory notes
• Critical analysis, including contemporary and modern perspectives on the work
• Discussion questions to promote lively classroom and book group interaction
• A list of recommended related books and films to broaden the reader's experience

Enriched Classics offer readers affordable editions of great works of literature enhanced by helpful notes and insightful commentary. The scholarship provided in Enriched Classics enables readers to appreciate, understand, and enjoy the world's finest books to their full potential.

SERIES EDITED BY CYNTHIA BRANTLEY JOHNSON
About the Author
Mary Shelley (1797-1851) was born to well-known parents: author and feminist Mary Wollstonecraft and philosopher William Godwin.Unfortunately, Wollstonecraft died as the result of Mary's birth. Mary was raised by her father and a much resented stepmother. When Mary was sixteen, she met the young poet Percy Bysshe Shelley, a devotee of her father's teachings. In 1816, the two of them travelled to Geneva to stay with Lord Byron. One evening, while they shared ghost stories, Lord Byron proposed that they each write a ghost story of their own. Frankenstein was Shelley's contribution.

Other works include Mathilda, The Last Man, and The Fortunes of Perkin Warbeck. Mary Wollstonecraft Shelley died in 1851 at the age of fifty-three.