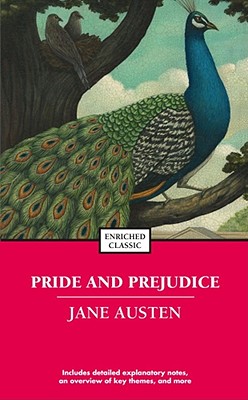 Pride and Prejudice (Enriched Classics)
Mass Market

* Individual store prices may vary.
Other Editions of This Title:
Paperback (6/10/2018)
Paperback (12/12/2016)
Paperback (2/28/2019)
Paperback (6/10/2018)
Paperback (5/20/2019)
Paperback (9/17/2018)
Paperback (5/9/2017)
Paperback (7/2/2018)
Paperback (9/24/2014)
Paperback (3/2/2019)
Paperback (2/18/2019)
Paperback (5/7/2019)
Paperback (10/19/2007)
Paperback (12/3/2018)
Paperback (6/8/2019)
Paperback (5/7/2019)
Paperback (4/5/2011)
Paperback (3/7/2018)
Paperback (2/4/2009)
Paperback (1/6/2018)
Description
Enriched Classics offer readers accessible editions of great works of literature enhanced by helpful notes and commentary. Each book includes educational tools alongside the text, enabling students and readers alike to gain a deeper and more developed understanding of the writer and their work.

It is a truth universally acknowledged, that a single man in possession of a good fortune, must be in want of a wife.

The first sentence of Jane Austen's Pride and Prejudice is among the most quoted in literature, and sets up the humorous and ultimately timeless tale of proper English society, unspoken intentions, and true love acquired. Pride and Prejudice is a classic that adeptly traces the intricacies of social status, manners, and relationship rituals in nineteenth-century England, through which all the love between Elizabeth Bennet and Mr. Darcy eventually blossoms.

Enriched Classics enhance your engagement by introducing and explaining the historical and cultural significance of the work, the author's personal history, and what impact this book had on subsequent scholarship. Each book includes discussion questions that help clarify and reinforce major themes and reading recommendations for further research.

Read with confidence.
Simon & Schuster, 9780743487597, 480pp.
Publication Date: May 1, 2004
About the Author
Jane Austen (1775-1817) was an English novelist known primarily for her six major novels—Sense and Sensibility, Pride and Prejudice, Mansfield Park, Emma, Northanger Abbey, and Persuasion—which observe and critique the British gentry of the late eighteenth century. Her mastery of wit, irony, and social commentary made her a beloved and acclaimed author in her lifetime, a distinction she still enjoys today around the world.