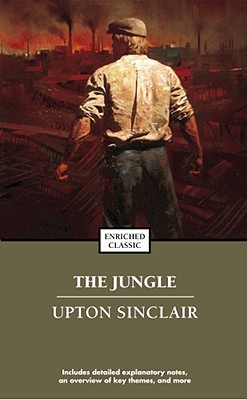 The Jungle (Enriched Classics) (Mass Market)
Simon & Schuster, 9780743487627, 480pp.
Publication Date: May 1, 2004
Other Editions of This Title:
Digital Audiobook (5/5/2011)
Paperback (4/30/2016)
Paperback (11/5/2018)
Paperback (5/18/2009)
Paperback (4/7/2009)
Paperback (10/17/2011)
Paperback (3/26/2019)
Paperback (11/8/2015)
Paperback (2/7/2014)
Paperback (3/28/2014)
Paperback (2/10/2010)
Paperback (1/27/2012)
* Individual store prices may vary.
Description
Enriched Classics offer readers accessible editions of great works of literature enhanced by helpful notes and commentary. Each book includes educational tools alongside the text, enabling students and readers alike to gain a deeper and more developed understanding of the writer and their work.

Upton Sinclair's unflinching chronicle of crushing poverty and oppression set in Chicago in the early 1900s. A landmark work of social commentary, Sinclair's work diligently exposes the inhumane and brutal sides of capitalism.

Enriched Classics enhance your engagement by introducing and explaining the historical and cultural significance of the work, the author's personal history, and what impact this book had on subsequent scholarship. Each book includes discussion questions that help clarify and reinforce major themes and reading recommendations for further research.

Read with confidence.
About the Author
Upton Sinclair was born in Baltimore in September 1878. His father moved the family to New York City in 1888. Although his own family was extremely poor, he spent periods of time living with his wealthy grandparents. He later argued that witnessing these extremes turned him into a socialist. Sinclair funded his college education by writing stories for newspapers and magazines. Sinclair's first novel was published in 1901. Sinclair was extremely active in socialist politics throughout his life. His novel Dragon's Teeth (1942) on the rise of Nazism won him the Pulitzer Prize. By the time Upton Sinclair died in 1968, he had published more than ninety books.