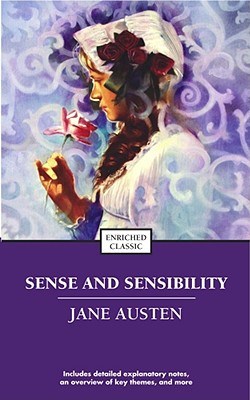 Sense and Sensibility (Enriched Classics) (Mass Market)
Simon & Schuster, 9780743487764, 416pp.
Publication Date: November 1, 2004
Other Editions of This Title:
Paperback (5/17/2017)
Paperback (5/30/2010)
Paperback (1/19/2015)
Paperback (8/29/2013)
Paperback (10/21/2018)
Paperback (2/10/2012)
Paperback (3/17/2011)
Paperback (3/1/2011)
Paperback (12/6/2013)
Paperback (2/11/2009)
Paperback (9/1/2004)
Paperback (6/8/2016)
Paperback (1/11/2016)
Paperback (6/27/2012)
Paperback (6/27/2016)
Paperback (7/30/2008)
Paperback (3/14/2009)
Paperback (7/10/2016)
* Individual store prices may vary.
Description
ENDURING LITERATURE ILLUMINATED
BY PRACTICAL SCHOLARSHIP

A timeless tale of romantic manners and mores in which two vastly different sisters experience love and loss under the rigid view of British society.

EACH ENRICHED CLASSIC EDITION INCLUDES:
• A concise introduction that gives readers important background information
• A chronology of the author's life and work
• A timeline of significant events that provides the book's historical context
• An outline of key themes and plot points to help readers form their own interpretations
• Detailed explanatory notes
• Critical analysis, including contemporary and modern perspectives on the work
• Discussion questions to promote lively classroom and book group interaction
• A list of recommended related books and films to broaden the reader's experience

Enriched Classics offer readers affordable editions of great works of literature enhanced by helpful notes and insightful commentary. The scholarship provided in Enriched Classics enables readers to appreciate, understand, and enjoy the world's finest books to their full potential.
SERIES EDITED BY CYNTHIA BRANTLEY JOHNSON
About the Author
Jane Austen (1775-1817) was an English novelist known primarily for her six major novels—Sense and Sensibility, Pride and Prejudice, Mansfield Park, Emma, Northanger Abbey, and Persuasion—which observe and critique the British gentry of the late eighteenth century. Her mastery of wit, irony, and social commentary made her a beloved and acclaimed author in her lifetime, a distinction she still enjoys today around the world.
or
Not Currently Available for Direct Purchase