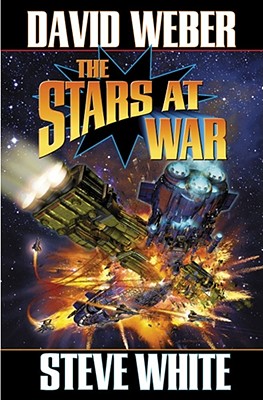 The Stars at War (Starfire)
Hardcover

* Individual store prices may vary.
Description
Two complete novels in the New York Times best-selling series, all in one generous volume. Crusade: Neither side in the Human-Orion war was strong enough to defeat the other, so it fizzled into an uneasy peace filled with hatred and mistrust on both sides. Then a ship appeared from the dim mists of half-forgotten history, and fired on the Orion sentry ship, igniting the fires of interstellar war anew, in a quest to free Holy Mother Terra. In Death Ground: The human race and two other star traveling races had warred with each other in the past, but now all three are at peace-a peace which is shattered by the discovery of a fourth race, the Bugs. The newcomers are mind-numbingly alien in their thought processes, have overwhelming numbers, and regard all other species as fit only to be food animals. There is no hope for peace with the invaders, and the galaxy explodes with a battle to the death. Kill-or be eaten.
Baen, 9780743488419, 816pp.
Publication Date: August 1, 2004
About the Author
David Weber is the science fiction phenomenon of the decade. His popular Honor Harrington novels (New York Times bestsellers Ashes of Victory and War of Honor are the ninth and tenth in the series) can't come out fast enough for his devoted readers. His popular novels of the adventures of Bahzell of the hradani-Oath of Swords and The War God's Own precede Wind Rider's Oath-have proven that he is equally a master of epic fantasy adventure. In addition to the Honor Harrington series, he has written many more top-selling science fiction novels, all for Baen, including Mutineers' Moon, The Armageddon Inheritance, Heirs of Empire, and Path of the Fury. He has also begun an epic SF adventure series in collaboration with fellow New York Times best seller John Ringo, with four novels so far: March Upcountry, March to the Sea, March to the Stars and We Few. Steve White completed a tour of duty in Vietnam as a Naval officer. His SF adventure trilogy for Baen comprising The Disinherited, Legacy, and Debt of Ages was highly successful, as was Prince of Sunset, and its sequel Emperor of Dawn. With David Weber, he has collaborated on Insurrection, Crusade, In Death Ground, and The Shiva Option.