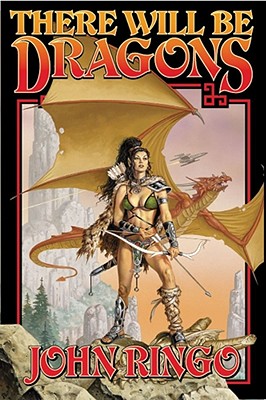 There Will Be Dragons (Mass Market)
Baen, 9780743488594, 752pp.
Publication Date: November 1, 2004
Other Editions of This Title:
Paperback (9/1/2020)
Hardcover (11/1/2003)
* Individual store prices may vary.
Description
In the future there is no want, no war, no disease nor ill-timed death. The world is a paradise-and then, in a moment, it ends. The council that controls the Net falls out and goes to war. Everywhere people who have never known a moment of want or pain are left wondering how to survive. But scattered across the face of the earth are communities which have returned to the natural life of soil and small farm. In the village of Raven's Mill, Edmund Talbot, master smith and unassuming historian, finds that all the problems of the world are falling in his lap. Refugees are flooding in, bandits are roaming the woods, and his former lover and his only daughter struggle through the Fallen landscape. Enemies, new and old, gather like jackals around a wounded lion. But what the jackals do not know is that while old he may be, this lion is far from death. And hidden in the past is a mystery that has waited until this time to be revealed. You cross Edmund Talbot at your peril, for a smith is not all he once was. . . .
About the Author
John Ringo had visited 23 countries and attended 14 schools by the time he graduated high school. This left him with a wonderful appreciation of the oneness of humanity and a permanent aversion to foreign food. A veteran of the 82nd Airborne, he brings first-hand knowledge of military operations to his fiction. His novels for Baen include the four novels in the New York Times best-selling Posleen Invasion series (A Hymn Before Battle, Gust Front, When the Devil Dances, and Hell's Faire), the two (so far) novels in his new far-future series (There Will be Dragons and Emerald Sea), and three collaborations with the New York Times bestselling author David Weber (March Upcountry, March to the Sea and March to the Stars).