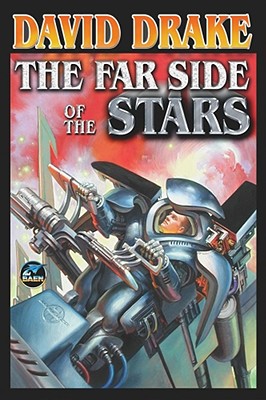 The Far Side of the Stars (Lt. Leary #3)
Mass Market

* Individual store prices may vary.
Other Editions of This Title:
MP3 CD (8/2/2016)
Description
While the Republic of Cinnabar is at peace with the Alliance, warriors like Lt. Daniel Leary and Signals Officer Adele Mundy must find other work--like escorting a pair of wealthy nobles on an expedition to the back of beyond! The Princess Cecile, the corvette in which they carved their reputations in letters of fire, has been sold as a private yacht, but she still has her guns, her missiles, and her veteran crew. Daniel and Adele will need all of those things as they face winged dragons, an Alliance auxiliary cruiser, jealous lovers, and a mysterious oracle which really does foresee the future. That won't be enough, though, when they penetrate a secret Alliance base and find a hostile fleet ready for a war that will sweep Cinnabar out of a strategically crucial arm of the galaxy. Preventing that will involve skill, courage, and more luck than a sane man could even pray for; and it will require a space battle on a scale that a tiny corvette like the Princess Cecile has no business being involved in. But she'll be in the middle of it anyway, because Daniel, Adele, and their Cinnabar crew would never turn their backs on a fight!
Baen, 9780743488648, 528pp.
Publication Date: November 30, 2004
About the Author
David Drake was attending Duke University Law School when he was drafted. He served the next two years in the Army, spending 1970 as an enlisted interrogator with the 11th Armored Cavalry Regiment in Viet Nam and Cambodia. Upon return he completed his law degree at Duke and was for eight years Assistant Town Attorney for Chapel Hill, North Carolina. He has been a full-time freelance writer since 1981. Besides the previous novels in the Lt. Leary series (with the Lightnings, Lt. Leary, Commanding and The Far Side of the Stars), his books for Baen include the best-selling Hammer's Slammers series (the most recent entry being Paying the Piper) and such stand-alone books as Ranks of Bronze, Starliner, All the Way to the Gallows, Redliners, and many more. For Tor, he has written the best-selling "Lord of the Isles" fantasy series, the most recent installment being Goddess of the Ice Realm.