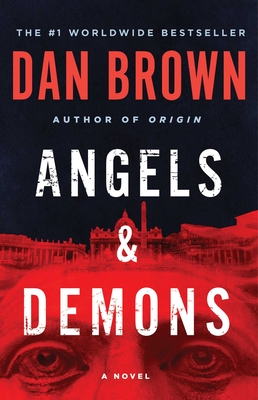 Angels & Demons (Paperback)
A Novel
Washington Square Press, 9780743493468, 496pp.
Publication Date: May 23, 2006
Other Editions of This Title:
Digital Audiobook (8/31/2003)
Digital Audiobook (8/31/2003)
Paperback, Spanish (5/31/2011)
CD-Audio (4/16/2013)
Paperback (3/28/2006)
Paperback (3/31/2009)
Paperback (5/1/2005)
Paperback (3/1/2009)
Hardcover (7/1/2003)
Other audio format (3/31/2009)
Paperback (2/1/2005)
Paperback, Japanese (6/1/2006)
Paperback, Large Print (3/1/2006)
Hardcover (5/3/2005)
Hardcover (5/12/2009)
Mass Market Paperback (6/1/2001)
Paperback, Japanese (6/1/2006)
Paperback (5/12/2009)
* Individual store prices may vary.
Description
The explosive Robert Langdon thriller from Dan Brown, the #1 New York Times bestselling author of The Da Vinci Code and Inferno—now a major film directed by Ron Howard and starring Tom Hanks and Felicity Jones.

An ancient secret brotherhood. A devastating new weapon of destruction. An unthinkable target. When world-renowned Harvard symbologist Robert Langdon is summoned to his first assignment to a Swiss research facility to analyze a mysterious symbol—seared into the chest of a murdered physicist—he discovers evidence of the unimaginable: the resurgence of an ancient secret brotherhood known as the Illuminati...the most powerful underground organization ever to walk the earth. The Illuminati has now surfaced to carry out the final phase of its legendary vendetta against its most hated enemy—the Catholic Church.

Langdon's worst fears are confirmed on the eve of the Vatican's holy conclave, when a messenger of the Illuminati announces they have hidden an unstoppable time bomb at the very heart of Vatican City. With the countdown under way, Langdon jets to Rome to join forces with Vittoria Vetra, a beautiful and mysterious Italian scientist, to assist the Vatican in a desperate bid for survival.

Embarking on a frantic hunt through sealed crypts, dangerous catacombs, deserted cathedrals, and the most secretive vault on earth, Langdon and Vetra follow a 400-year-old trail of ancient symbols that snakes across Rome toward the long-forgotten Illuminati lair...a clandestine location that contains the only hope for Vatican salvation.

Critics have praised the exhilarating blend of relentless adventure, scholarly intrigue, and cutting wit found in Brown's remarkable thrillers featuring Robert Langdon. An explosive international suspense, Angels & Demons marks this hero's first adventure as it careens from enlightening epiphanies to dark truths as the battle between science and religion turns to war.
About the Author
Dan Brown is the #1 New York Times bestselling author of Origin, The Da Vinci Code, Digital Fortress, Deception Point, The Lost Symbol, Angels & Demons, and Inferno. He is a graduate of Amherst College and Phillips Exeter Academy, where he spent time as an English teacher before turning his efforts to writing full-time. He lives in New England with his wife. Visit his website at DanBrown.com.