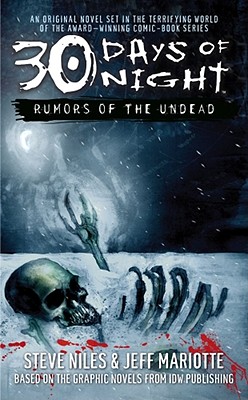 30 Days of Night
Rumors of the Undead
Mass Market

* Individual store prices may vary.
Description
In a sleepy, secluded Alaska town called Barrow, the sun sets and doesn't rise for more than thirty consecutive days and nights from November to December. During this time a few years ago, from the darkness and across the frozen wasteland, an evil that normally preferred to exist in the shadows descended upon Barrow and brought the residents to their knees. Barrow's only hope was Eben and Stella Olemaun, a husband-and-wife law enforcement team who were torn between their own survival and saving the town they loved.

Months later, as Stella Olemaun attempts to warn the world about the looming vampire threat by any means necessary, a rogue government agent may be taking more than an active interest in her story. And meanwhile, further north, a new sheriff and his young son must solve the lingering mystery of Barrow, even as the survivors of the original attack prepare for the sun to set once again -- however this time, they're ready. 30 Days Of Night: Rumors Of The Undead is Steve Niles's innovative and eagerly anticipated expansion of a nightmarish narrative that explores the nature of ancient evil existing -- and thriving -- in an unsuspecting modern world.
Praise For 30 Days of Night: Rumors of the Undead…
"If you have a taste for the real stuff of horror fiction, you'll find it in 30 Days of Night."

-- Clive Barker, for the award-winning graphic novel
Pocket Star, 9780743496513, 416pp.
Publication Date: March 1, 2006
About the Author
Jeff Mariotte is the award-winning author of more than seventy novels, including thrillers Empty Rooms and The Devil's Bait, supernatural thrillers Season of the Wolf, Missing White Girl, River Runs Red, and Cold Black Hearts, and horror epic The Slab. With his wife, the author Marsheila Rockwell, he wrote the science fiction/horror/thriller 7 SYKOS, and numerous shorter works. He also writes comic books, including the long-running horror/Western comic book series Desperadoes and graphic novels Zombie Cop and Fade to Black. He has worked in virtually every aspect of the book business, including bookselling, marketing, editing, and publishing. He lives in Arizona, in a home filled with books, art, music, toys, and love.
or
Not Currently Available for Direct Purchase