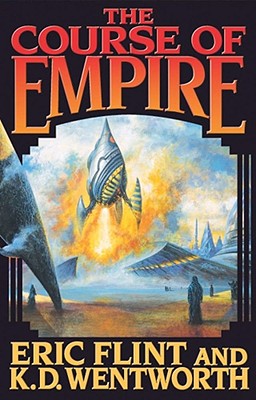 The Course of Empire
Mass Market Paperback

* Individual store prices may vary.
Other Editions of This Title:
Hardcover (9/1/2003)
MP3 CD (5/3/2016)
Description
The Battle to Free the Earth May Destroy It Instead Thundering Space Action by the Authors of 1632 and Black on Black. Conquered by the Jao twenty years ago, the Earth is shackled under alien tyranny - and threatened by the even more dangerous Ekhat, one of whose genocidal extermination fleets is coming to the solar system. The only chance for human survival is in the hands of an unusual pair of allies: a young Jao prince, newly arrived to Terra to assume his duties, and a young human woman brought up amongst the Jao occupiers. But, as their tentative alliance takes shape, they are under pressure from all sides. A cruel Jao viceroy on one side, determined to drown all opposition in blood; a reckless human resistance on the other, which is perfectly prepared to shed it. Added to the mix is the fact that only by adopting some portions of human technology and using human sepoy troops can the haughty Jao hope to defeat the oncoming Ekhat attack - and then only by fighting the battle within the sun itself.
Baen , 9780743498937, 672pp.
Publication Date: March 1, 2005
About the Author
Eric Flint, as Publishers Weekly put it in a starred review of his 1632 (Baen), is "an SF author of particular note, one who can entertain and edify in equal, and major, measure." With David Drake he has collaborated on five novels in the popular Belisarius series, and with David Weber, he has written 1633, a sequel to 1632, and Crown of Slaves, an offshoot of the best-selling Honor Harrington series. His first novel, Mother of Demons, was picked by Science Fiction Chronicle as a best novel of the year. A longtime labor union activist with a Master's Degree in history, he currently resides in Indiana with his wife Lucille. K. D. Wentworth is author of seven novels, including Black on Black and Stars Over Stars for Baen, and more than fifty short stories, appearing in such magazines as Fantasy & Science Fiction, Hitchcock's Mystery Magazine, Realms of Fantasy, and others. She is a winner in the Writers of the Future contest, and has been a Nebula Award finalist twice. Her latest novel is This Fair Land (Hawk), an alternate history fantasy of the era of Columbus. She attributes her success to having a very large dog and a wonderful husband, not necessarily in that order, and lives with both in Tulsa, Oklahoma.
or
Not Currently Available for Direct Purchase