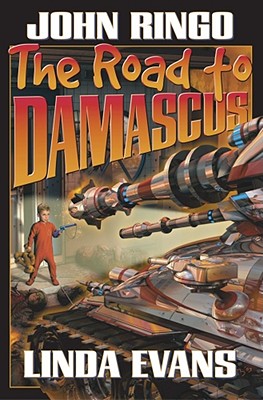 The Road to Damascus ( Bolo )
Mass Market

* Individual store prices may vary.
Other Editions of This Title:
Hardcover (3/1/2004)
Description
Keith Laumer's Bolos are Back-and New York Times Best-Selling Author John Ringo has Signed on with the Bolo Brigade! First Time in Paperback.

When a ruthless political regime seizes power on a world struggling to recover from alien invasion, a former war hero finds herself leading a desperate band of freedom fighters. Kafari Khrustinova, who fought Deng infantry from farmhouses and barns, finds herself struggling to free her homeworld from an unholy political alliance, headed by the charismatic and ambitious Vittori Santorini, which has seduced her young daughter with its propaganda and subverted the planet's Bolo, using the war machine to crush all political opposition. To free her homeworld, Kafari must somehow cripple or kill the Bolo she once called friend. Unit SOL-0045, "Sonny," is a Mark XX Bolo, self-aware and intelligent. When Sonny's human commander is forced off-world, Sonny tries to navigate his way through ambiguous moral and legal issues, sinking into deep confusion and electronic misery. He eventually faces a dark night of the soul, with no guarantee that he will understand-let alone make-the right decision. And caught in the middle of this volatile battlefield is Yalena Khrustinova, Kafari's young daughter. Will she open her eyes in time to save herself-and millions of innocents-or will Santorini's relentless brainwashing campaign continue to blind her while the tyrant engineers the ultimate destruction of a helpless and enslaved population?
Baen, 9780743499163, 768pp.
Publication Date: July 1, 2005
About the Author
John Ringo brings fighting to life. He is the creator of the Posleen Wars series, which has become a New York Times best-selling series with more than one million copies in print. The series contains A Hymn Before Battle, Gust Front, When the Devil Dances, Hell's Faire, and Eye of the Storm. In addition, Ringo has penned the Council War series. Adding another dimension to his skills, Ringo created nationally best-selling techno-thriller novels about Mike Harmon (Ghost, Kildar, Choosers of the Slain, Unto the Breach, and A Deeper Blue). His techno-thriller The Last Centurion was also a national bestseller. A more playful twist on the future is found in novels of the Looking-Glass series: Into the Looking Glass, Vorpal Blade, Manxome Foe, and Claws That Catch, the last three in collaboration with Travis S. Taylor. His audience was further enhanced with four collaborations with fellow New York Times best-selling author David Weber: March Upcountry, March to the Sea, March to the Stars, and We Few. There are an additional seven collaborations from the Posleen series: The Hero, written with Michael Z. Williamson, Watch on the Rhine, Yellow Eyes, and The Tuloriad, all written with Tom Kratman, and the New York Times bestseller Cally's War and its sequels Sister Time and Honor of the Clan, all with Julie Cochrane. His science-based zombie apocalypse Black Tide Rising series includes Under a Graveyard Sky, To Sail a Darkling Sea, Islands of Rage and Hope, and Strands of Sorrow. A veteran of the 82nd Airborne, Ringo brings firsthand knowledge of military operations to his fiction.
or
Not Currently Available for Direct Purchase