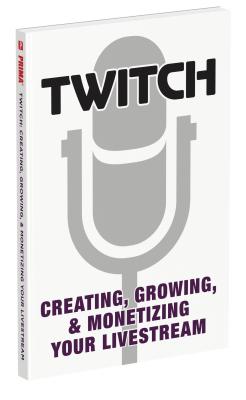 Twitch (Paperback)
Creating, Growing, & Monetizing Your Livestream
Prima Games, 9780744019681, 208pp.
Publication Date: March 26, 2019
* Individual store prices may vary.
Description
Learn how to grow, maintain, and monetize your Twitch livestream! Filled with practical advice and easy-to-follow tips, this book describes how to set up, customize, evolve, and monetize your gaming livestream. Includes in-depth guidance from established Twitch livestreamers! Whether you're new to the streaming scene or a battle-tested veteran, you can follow their tested tips to improve your overall streaming experience.


• Expert Advice: Get best practices from several popular Twitch streamers in addition to their tips and tricks to a successful stream!

• Streaming as a Career: Discover what it takes to make livestreaming a profitable career.

• Building and Keeping an Audience: Tips and tools to help maximize viewership.

• Promoting Your Channel: Learn how to market your stream to the widest audience.

• Beginner & Advanced Streaming Advice: Sensible guidance for anyone looking to improve and grow their livestream.

• Setting Up Your Livestream: Recommendations on the best equipment to ensure a great livestream experience for you and your followers.


About the Author
Prima Games, an imprint of DK and a division of Penguin Random House, is the world's leading publisher of strategy content for PC and console video games. Prima Games understands what gamers—both casual and hardcore—want and need from strategy guides. Every guide features in-depth content, detailed screen captures, quick-reference tips, and professional strategies. Prima Games is also a leader in the digital strategy realm, offering interactive maps, streaming video, searchable online guides and apps, and a full website at primagames.com.