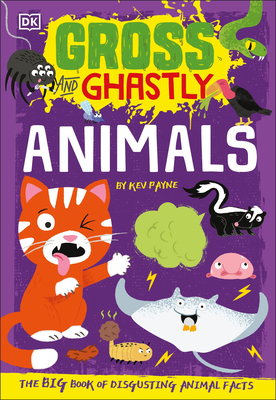 Gross and Ghastly
Animals: The Big Book of Disgusting Animal Facts
Hardcover

* Individual store prices may vary.
Other Editions of This Title:
Paperback (9/7/2021)
Description
Get ready to have your mind blown with a big book of disgusting animal facts. An alternative animal factbook perfect for kids ages 6-9 that love any gross and bizarre facts.

Go on a stomach-churning journey exploring the gross and ghastly animal kingdom. Packed full of facts, puzzles and games, which will guarantee young readers learn something exciting about their favorite animals.

Gross and Ghastly:Animals has pages filled with fun and educational information about the animal kingdom:

   • Funny text and beautiful illustrations make this educational book easy for adults and children to read together.
   • Exciting and funny facts about some of your favorite animals.  
   • Several interactive activities, such as quizzes and puzzles. 
   • Written and illustrated by popular, upcoming author Kev Payne. 

Did you know that the male capuchin uses his pee as a perfume to attract his mate? Disgusting, right? Or that moles have a superstore of worms in a special underground chamber ready for snacking? This fantastic factbook is filled with weird and wonderful information about your favorite animals.

Learn about a range of animals, from creepy crawlies to foul fish, and what makes them truly terrible. An exciting and educational book that is fun for adults and children to read together. Filled with facts, puzzles and games that will keep children occupied, educated and happy for hours.
DK Children, 9780744047158, 128pp.
Publication Date: September 7, 2021
About the Author
Kev Payne has been an elementary school teacher for more than 17 years, and has held a range of workshops for children. He loves to write stories, poems, and create animations and interactive games for kids. Kev loves to bring learning to life and has written and illustrated a number of books, including "B is for Blobfish" and "Sock It To Me!".