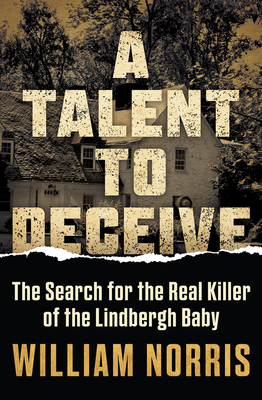 A Talent to Deceive
The Search for the Real Killer of the Lindbergh Baby
Paperback

* Individual store prices may vary.
Other Editions of This Title:
Hardcover (4/20/2021)
Description
No one is innocent when a mystery is unsolved.
Charles Lindbergh was known for many things during his lifetime. He was a famous aviator, the first person to fly nonstop across the Atlantic Ocean, winner of the Orteig Prize, and a young American hero. But despite his honors and achievements, his name will forever be associated with the infamy of one of the Trials of the Century. The Lindbergh Kidnapping.
On a dreary March night, Charles Lindbergh's 20-month-old son was abducted from his crib. The baby's kidnapper left behind muddy footprints, a broken ladder, and a ransom note demanding $50,000. Weeks later, Charles Lindbergh Jr. was found … dead. Everyone was a suspect in this investigation, even the Lindberghs. After a six-week trial, Bruno Richard Hauptmann was named the ultimate culprit, but he claimed he was innocent even up to his execution day.
For nearly 100 years, the Lindbergh Kidnapping still remains a major topic of controversy and fascination. A Talent to Deceive uses investigative journalism to dive into evidence ignored by previous investigators in search of the truth. Who really committed the crime? What really happened the night of March 1, 1932? What was the motive to kidnap and murder the Lindbergh baby?
Follow Norris in this history-meets-mystery tale as he performs a thorough investigation to solve The Case That Will Never Die.
CamCat Perspectives, 9780744300727, 384pp.
Publication Date: July 7, 2020
About the Author
William (Bill) Norris spent more than ten years working for various newspapers in England and Africa before his appointment as Parliamentary Correspondent to the prestigious Times of London. Afterward, as the Africa Correspondent for The Times, he covered a wide range of political beats in Biafra, Nigeria, Angola, the Congo, Mozambique, Botswana, Zambia, Tanzania, and Zimbabwe. He went on to counsel young journalists as the Associate Director of the PressWise Trust (a British media ethics charity) and present at colleges and conferences for many years, publishing numerous works of fiction and nonfiction inspired by his investigative journalism. He now resides in the South of France with his wife Betty, two cats, and two exhausting dogs.
or
Not Currently Available for Direct Purchase