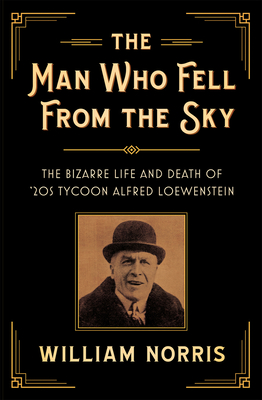 The Man Who Fell From The Sky
The Bizarre Life and Death of '20s Tycoon Alfred Loewenstein
Paperback

* Individual store prices may vary.
Other Editions of This Title:
Paperback, Large Print (7/28/2020)
Hardcover (7/28/2020)
Description
Captain Alfred Lowenstein was known as many things during his glamorous and gaudy life. Companion of the Bath, friend of kings, an aviator and sportsman, a maker and loser of fortunes, and most favorably, a multi-millionaire. That is, until his mysterious death.
On a July evening in 1928, Lowenstein boarded his aircraft with six others to travel from England to Brussels. He never arrived. While flying over the English Channel, Lowenstein fell through an exit door of the airplane on his way to the lavatory.
People were quick to explain his mysterious death. Many said his fall was an accident while others speculated that he jumped from the plane to commit suicide. And of course, there were the more sinister theories claiming that someone pushed him out of the aircraft. But who? And why?
Investigative journalist William Norris develops a theory of how and why this prominent, rich, and famous man died so violently without any explanation or official investigation. Did Lowenstein fall, did he jump, or was he pushed from his own aircraft?
The Man Who Fell from the Sky contains excitement and mystery as Norris researches the business tycoon's life, death, and aftermath of his demise and comes to a conclusion of how Alfred Lowenstein vanished into thin air.
Camcat Publishing, LLC, 9780744300789, 320pp.
Publication Date: July 28, 2020