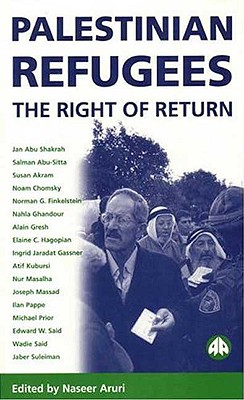 Palestinian Refugees (Hardcover)
The Right of Return
Pluto Press, 9780745317779, 312pp.
Publication Date: September 20, 2001
* Individual store prices may vary.
Description
With renewed conflict in the Middle East, the prospect of a peaceful resolution looks more unlikely than ever. The Palestinian right of return to their homes has been upheld in international law and through United Nations' resolutions for fifty years. Equally the right of return has been denied by Israel and deferred to a "final status" issue in the Oslo Accords. It is on this right of return that the Palestinians are united. And it is this issue which is so frequently ignored by the international media.

With major contributions from a range of international experts, including Edward W. Said, Noam Chomsky, Ilan Pappe, Alain Gresh and Norman Finkelstein, this volume examines the Palestinians' right of return. Chapters cover the historical roots of the Palestinian refugee question; the rights of the refugees under international law; the special case of Lebanon; Israeli perceptions of the refugee question; the practical feasibility of the return; the role of the United States and the European Union and the Refugee Question; the value of the refugee property; the principles of compensation; and a programme for an Independent Rights Campaign.
About the Author
Dr. Naseer Aruri is Chancellor Professor (Emeritus) of Political Science at the University of Massachusetts at Dartmouth. He is Chair of the Board of Directors of the Trans-Arab Research Institute (Boston), a member of the Executive committee of the Center for policy Analysis on Palestine (Washington, D.C.), and a member of the Board of Directors of the newly-established International Institute of Criminal Investigations (The Hague). He is a member of the Independent Palestinian Commission for the Protection of Citizens Rights (Ramallah) since its inception in January l994, a Founding Member of the Arab Organization for Human Rights, Cairo and Geneva in 1982, and a member of the editorial board of Third World Quarterly (London). He was also a member of the Board of Directors of Human Rights Watch/Middle East, 1990-1992, and a three - term member of the Board of Directors of Amnesty International, USA, 1984-1990.
or
Not Currently Available for Direct Purchase