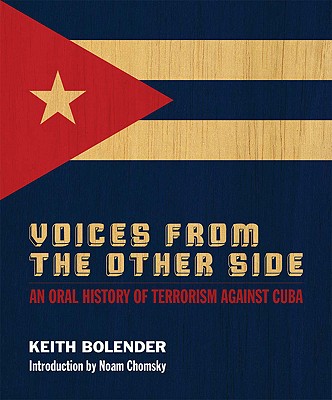 Voices from the Other Side (Hardcover)
An Oral History of Terrorism Against Cuba
Pluto Press (UK), 9780745330419, 240pp.
Publication Date: September 6, 2010
* Individual store prices may vary.
or
Not Currently Available for Direct Purchase
Description
Since the early 1960s, few other countries have endured more acts of terrorism against civilian targets than Cuba, and the US has had its hand in much of it. This book gives a voice to the victims.
Keith Bolender brings to bear the enormous impact that terrorism has had on Cuba's civilian population, with over 1,000 documented incidents resulting in more than 3,000 deaths and 2,000 injuries. Bolender allows the victims to articulate the atrocities the Cuban people have suffered - which largely originate from Cuban counter-revolutionaries based in the US, often with the active help of the CIA.
"Voices From The Other Side" includes first-person interviews with more than 75 Cuban citizens who have been victims of these terrorist acts, or have had family members or close friends die from the attacks. It is a unique resource for activists, journalists and students interested in Cuba's torrid relationship with the US.
About the Author
Keith Bolender is a freelance journalist who worked for more than 10 years with the Toronto Star. He has written extensively on Cuban matters for a variety of North American publications. He is a member of the Institute for Public Accuracy (IPA) on their Roster of Experts for Cuban Affairs. He currently lectures at the University of Toronto School of Continuing Studies on American Foreign Policy and the Cuba Revolution. Noam Chomsky is a world renowned linguist and one of our foremost social critics. He is Institute Professor in the Department of Linguistics and Philosophy at MIT and the author of numerous books for Pluto Press.
Praise For Voices from the Other Side: An Oral History of Terrorism Against Cuba…
"Since 1960, successive US administrations have waged an aggressive illegal war against Cuba, the human toll of which has long been ignored. Bolender's book corrects this ignorance, offering a true people's history of perseverance. Highly recommended." -- Greg Grandin, Professor of History at New York University and author of Empire's Workshop: Latin America, the United States, and the Rise of the New Imperialism (2006) "A book that should be read and passed around…Bolender give[s] readers a better understanding of the US' Machiavellian policies towards Cuba. Bolender shows the vicious cycle of increasing repressive measures by the US as Cuba increased its reforms on behalf of the poor majority of its citizens...[this] book does far more than the already-important goal of putting a human face to the victims of these terrorist acts ...it gives us a new understanding of the psychological warfare the US has been carrying out parallel to its economic and military war. This is a book that should be in every library and every progressive bookshelf." -- Karen Lee Wald, Reviewer "Counter-narratives are always welcomed: a way to develop new perspectives and challenge old perceptions. Voices From the Other Side is especially timely, for it turns the prevailing paradigm of terrorism on its head: in this instance, Cuba as object of a policy of sanctions, subversion, and sabotage as experienced in the daily lives of the Cuban people." -- Louis A. Pérez, Jr., University of North Carolina at Chapel Hill "This is a book that should be in every library and on every progressive bookshelf. I urge people to buy it, read it, pass it on to others." -- Karen Lee Wald, author of Children of Che: Child Care and Education in Cuba
Advertisement