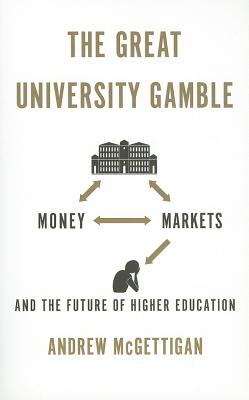 The Great University Gamble (Paperback)
Money, Markets and the Future of Higher Education
Pluto Press, 9780745332932, 232pp.
Publication Date: April 11, 2013
Other Editions of This Title:
Hardcover (4/11/2013)
* Individual store prices may vary.
Description
In 2010 the UK government imposed huge cuts and market-driven reforms on higher education. Proposals to raise undergraduate tuition fees provoked the angriest protests for decades. This academic year has seen the first cohort of students begin study under the new arrangements. A proposed Higher Education Bill has been shelved, but changes are being cemented and extended through other means.

Displaying a stunning grasp of the financial and policy details, Andrew McGettigan surveys the emerging brave new world of higher education. He looks at the big questions: What will be the role of universities within society? How will they be funded? What kind of experiences will they offer students? Where does the public interest lie?

Written in a clear and accessible style, The Great University Gamble outlines the architecture of the new policy regime and tracks the developments on the ground. It is an urgent warning that our universities and colleges are now open to commercial pressures, which threaten to transform education from a public good into a private, individual financial investment.
About the Author
Andrew McGettigan lives in London and writes on philosophy, the arts and education. He is the author of the Intergenerational Foundation report, False Accounting? Why the Government's Higher Education Reforms don't Add Up (2012).
Praise For The Great University Gamble: Money, Markets and the Future of Higher Education…
"Andrew McGettigan is in my opinion by far the most knowledgeable person in the country on the government's obscure and yet revolutionary program of change for universities. He provides us with a full and independent view of the short, medium and longer-term implications of the government's plans. This book is essential and deeply worrying reading." – Simon Szreter, Professor of History and Public Policy, University of Cambridge

"Andrew McGettigan is one of the most respected and incisive commentators on higher education. There are no other texts at present that address the political economy of higher education and none that put all the pieces of the jigsaw together to reveal the picture with such clarity." – John Holmwood, Professor of Sociology, Faculty of Social Sciences, University of Nottingham, co-founder of the Campaign for the Public University and editor of A Manifesto for the Public University (2011)