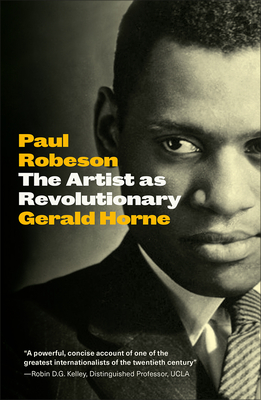 Paul Robeson
The Artist as Revolutionary (Revolutionary Lives)
Paperback

* Individual store prices may vary.
Other Editions of This Title:
Hardcover (3/15/2016)
Description
A world-famous singer and actor, a trained lawyer, an early star of American professional football and a polyglot who spoke over a dozen languages: these could be the crowning achievements of a life well-lived. Yet for Paul Robeson the higher calling of social justice led him to abandon both the NFL and Hollywood and become one of the most important political activists of his generation, a crusader for freedom and equality who battled both Jim Crow and Joseph McCarthy.
 
In Paul Robeson, Gerald Horne discovers within Robeson's remarkable and revolutionary life the story of the twentieth century's great political struggles: against racism, against colonialism, against poverty—and for international socialism. This critical and searching biography provides an opportunity for readers to comprehend the triumphs and tragedies of the revolutionary progressive movement of which Robeson was not just a part, but perhaps its most resonant symbol.

Praise For Paul Robeson: The Artist as Revolutionary (Revolutionary Lives)…
''Horne gives us the Paul Robeson we've been waiting for: the flesh and blood revolutionary, artistic genius, and fearless opponent of capitalism, racism and colonialism. He recovers in meticulous scholarly detail one of the 20th century's greatest freedom fighters.  Horne also brings Robeson to life for our own times. This is a brilliant encore for an essential revolutionary life." - Bill V. Mullen, Purdue University, author of
Afro-Orientalism
— Bill V. Mullen, Purdue University, author of Afro-Orientalism
"Horne has made an amazing contribution to African American radical history with the newly published biography
Paul Robeson: The Artist as Revolutionary.
I devoured [it] in one sitting. In a relatively short book, Horne has captured the essence of Paul Robeson as both a domestic leader for African American equality, as well as an international icon promoting decolonization
and
socialism on a world stage. I hope a new generation of activists - Black and white - read Horne's insightful book."
— People's World
Won
— PEN Oakland Josephine Miles Book Award for 2017
"Historian Horne delivers a fine, taut analysis of the great African American athlete, singer, actor, and political activist, highlighting the theme of the artist as revolutionary. A welcome addition for any library, small or large. Highly recommended."
— Choice
"Powerfully affirms that Robeson's global artistic acclaim infuriated defenders of U.S. foreign policy while giving voice to earlier and later generations of black socialist radical artists. Horne portrays the tragedies faced by and the impact possible for politically conscious black artists in the face of racial caricature and American imperialism. Drawing attention to Robeson's oratory this study reflects the cultivation of debate, law, and linguistics in Black cultural life and the role of Robeson's universalist musicology." - Tiffany Willoughby-Herard, UC Irvine
— Tiffany Willoughby-Herard, UC Irvine
"Horne's book is fine introduction to the man, his work and more importantly his ideas. The book succinctly charts the evolution of this singular and exemplary Artist, who used his vast talent, intellect and renown to fight for the rights and dignity of the oppressed and exploited of the world.  A valuable work that clarifies the distinction between genuine fame and the simple vacuous celebrity obsessions of our time."
— Billy Woodberry, leading director of the L.A. Rebellion (Los Angeles School of Black Filmmakers)
"An original and powerful biography of Paul Robeson by today's most productive scholar of African American history: Gerald Horne. Through focusing on his artistry as an actor, global travels, passion for languages, and struggles against U.S. cold warriors, Horne brilliantly brings to life Robeson's commitment to racial equality, socialism, decolonization, peace, and internationalism.  This book would have made Robeson proud."
— Erik S. McDuffie, University of Illinois
Pluto Press, 9780745335322, 176pp.
Publication Date: February 15, 2016
About the Author
Gerald Horne holds the John J. and Rebecca Moores Chair of History and African American Studies at the University of Houston. He is the author of The Counter-Revolution of 1776 and Black Revolutionary.