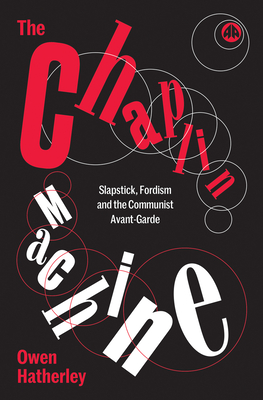 The Chaplin Machine (Hardcover)
Slapstick, Fordism and the International Communist Avant-Garde
Pluto Press, 9780745336015, 200pp.
Publication Date: July 15, 2016
* Individual store prices may vary.
Description
There was something uncanny about Charlie Chaplin. His fellow actors spoke of him as inhuman—automaton-like. His stiff, comic movements could be viewed as an attempt to parody the newly developed production lines of Henry Ford's revolutionary factories. As wide-scale application of this technology spread to Soviet Russia, Chaplin's slapstick comedic style also found a following among the artists carving out a new society under communism.
 
In The Chaplin Machine, Owen Hatherley unearths the hidden history of Soviet film, art, and architecture. Turning upside down the common view that the communist avant-garde was austere and humorless, he reveals an unexpected comedic streak that found its inspiration in the slapstick of the American performers Charlie Chaplin and Buster Keaton.
 
What did it mean for socialists to combine the ideas of Chaplin and Ford? Were their experiments indicative of a new future conception of work and leisure? And to what degree was this emphasis on comedy a precursor to the strangely festive despotism of Stalin? By asking these questions, The Chaplin Machine challenges our understanding of twentieth-century art in America and abroad.
About the Author
Owen Hatherley is the author of Militant Modernism, A Guide to the New Ruins of Great Britain, and Landscapes of Communism. 
Praise For The Chaplin Machine: Slapstick, Fordism and the International Communist Avant-Garde…
"The Chaplin Machine traces an enjoyably idiosyncratic path back and forth between film studios and factories on opposing continents. This book was partly developed out of Hatherley's postgraduate research, and so is more academic and less pithy and personal in tone than his previous publications on modernist architecture, austerity nostalgia and Pulp. Nonetheless, its wide embrace of cinema, architecture, politics, design and engineering offers intellectual excitement as well as rigour."
 
— Guardian
"In The Chaplin Machine Hatherley sets out to demonstrate that the avant-garde-as-demiurge model, in which art and politics sublate into totalitarianism, in no way characterizes the actual practice of Soviet artists of the 1920s and 1930s….One of this book's undoubted strengths is the wealth of detail he offers, all of it marshaled together by a strong line of reasoning. Hatherley aims his argument at those who are accustomed to, and tired of, standard-issue bromides about modernism, both Soviet and otherwise. He shows that the artists of the Soviet avant-garde attempted to bring into being something unique—a modernism for and of the people, as enjoyable as it was rigorous, one which commented on the present circumstances and contained within it an imaginative surplus sufficient to energize revolutionary potential…We might adapt the Soviet avant-garde's practices—as its practitioners themselves adapted Chaplin's—in a new effort to meld egalitarian politics, aesthetic innovation, and public address, so as to imagine, and then build, a new world for everyone."
 
— Los Angeles Review of Books
"Lively, informative and entertaining." 
— Times Literary Supplement
"With Hatherley's typically deft and well-informed prose, The Chaplin Machine reveals how the quasi-mechanical automaton-like performances of Charlie Chaplin or Buster Keaton might be seen as a pastiche mirroring of Fordism, and how this form of slapstick comedy was in turn adopted by the avant-garde in Soviet Russia. Hatherley includes a dizzying array of artworks, films and architecture to weave this astonishingly comedic tale of Soviet Russia."
— TANK Magazine
"The Chaplin Machine is a precious and thoroughly researched book, shedding light on a very stimulating chapter of (film) history that saw filmmakers attempting to exceed the rectangular borders of the screen to break into the phenomenal world of the everyday. It tells the happy end-less story of a group of artists and 'politicians' whom after having successfully destroyed the old world tried to create a new, less miserable one."
— Brooklyn Rail
"Puts the Lenin back in Chaplin and the Chaplin back in the pre-Stalinist USSR. Brilliantly conceived, impeccably researched and concisely written. A definitive work."
 
— Jon Beller, author of The Cinematic Mode of Production
"The Chaplin Machine teems with exciting histories, possibilities, outrages and revelations. This brilliantly researched and beautifully written lightning bolt of a book approaches art and its history from a completely new point of the compass, and its readers will never again see the last century as they once did! An eye-bulging astonishment!"
 
— Guy Maddin, director of The Saddest Music in the World and My Winnipeg
or
Not Currently Available for Direct Purchase