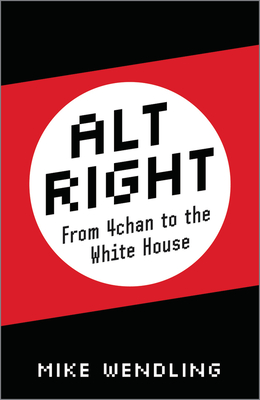 Alt-Right
From 4Chan to the White House
Paperback

* Individual store prices may vary.
Other Editions of This Title:
Hardcover (4/20/2018)
MP3 CD (5/14/2019)
Description
Aside from the election of Donald Trump, the most surprising political development of the past few years has been the rapid rise of the Alt-Right—the white nationalist, anti-feminist, far-right movement that provided much of the ground-level energy for Trump's campaign and has been a focus of international media attention ever since. Yet we still rarely get a clear sense of who and what the Alt-Right actually are, and what their long-term effect is likely to be.
            Journalist Mike Wendling knows. He's been following the Alt-Right closely for years, and with this book he shares the deep knowledge he's gleaned. Media accounts to the contrary, the Alt-Right didn't just burst out of nowhere in 2016—rather, they have been building their network quietly for years, using bulletin boards and social media to spread a toxic hybrid of technological utopianism, reactionary philosophy, and racial hatred. Wendling traces clearly the rise of the movement and the evolution of its ideas, and he introduces us to some of its key figures—many of whom he interviewed personally for the book. He explores links between Alt-Right rhetoric and hate crimes and terrorism, showing that the evidence connecting them is undeniable. Ultimately, however, he builds a strong case that the movement's lack of a coherent base and its contradictory tendencies are already sapping its strength and will lead to its downfall.
            A shocking exposé of a movement whose emergence stunned the world, Alt-Right presents a disturbing picture of our current political moment.
 
Praise For Alt-Right: From 4Chan to the White House…
"Now more than ever it is imperative to understand the inner workings of the nebulous 'alt-right,' which became a household name as Donald Trump entered the White House. Mike Wendling's meticulous study traces its origins, delves into its language, and dissects its sectarian divides to reveal the true face of a movement seeking to make racism great again. Alt-Right is an urgently needed dose of clarity for anyone hoping to understand the twists and turns of far right politics beyond the Khakis and Tiki torches."
— Mark Bray, author of Antifa: The Anti-Fascist Handbook
"By paying close, critical attention to the alt-right—most important, doing so long enough to see through its fog of lies, misdirection and trolling—[Wendling] has developed a well-rounded understanding of the movement, and created an important guide to one of the most disturbing political developments of our time."
— New York Times Book Review
"[A] concise survey of the 21st-century far right . . . . The most illuminating insights in the book are Wendling's brief but revealing interviews with various ordinary people who identify as alt-righters. Taken collectively they constitute a somber and pathetic portrait of stunted and self-pitying manhood finding consolation in chauvinism."
— Los Angeles Review of Books
"Anyone hoping to get a deeper look at the 'alt-right' will find this accessible, enjoyable, and informative." 
— Observer
"Wendling writes clearly, bolstering his argument with the words and activities of fringe figures . . . . A thoughtful distillation of research that is sadly relevant to our current political moment."
 
— Kirkus Reviews
Pluto Press, 9780745337456, 204pp.
Publication Date: April 20, 2018
About the Author
Mike Wendling is a senior broadcast journalist at the BBC. He produced the BBC radio series America's Own Extremists and has also presented documentaries for Radio 4 and the BBC World Service on Native Americans and the Black Lives Matter movement.