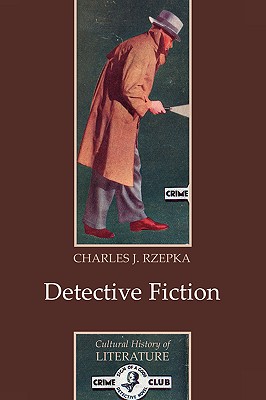 Detective Fiction (Polity Cultural History of Literature #6)
Paperback

* Individual store prices may vary.
Other Editions of This Title:
Hardcover (10/1/2005)
Description
Detective Fiction is a clear and compelling look at some of the best known, yet least-understood, characters and texts of the modern day. Charles J. Rzepka traces the history of the genre from its modern beginnings in the early eighteenth century, with the criminal broadsheets and 'true' crime stories of The Newgate Calendar, to its present state of diversity, innovation, and worldwide diffusion, in a manner that students and scholars alike will find readable and provocative.

The book focuses particularly on the relationship of detective fiction's emerging 'puzzle-element' to the investigative methods of the nascent historical sciences, and to popular cultural attitudes toward history, particularly in Great Britain and the United States. In addition, the author examines the specific impact of urbanization, the rise of the professions, brain science, legal and social reform, war and economic dislocation, class-consciousness, and changing concepts of race and gender. Extended close readings of the classics of Detective Fiction in several 'Casebook' essays devoted to seminal works by Poe, Doyle, Sayers, and Chandler show in detail how the genre has responded to these influences over the last century and a half. They also serve to introduce students to a variety of current critical approaches.


Undergraduate students of Detective and Crime Fiction and of genre fiction in general, will find this book essential reading.


'Cool, savvy, and utterly compelling: every page of Charles J. Rzepka's magnificent history of detective fiction displays the forensic panache of the true connoisseur of murder. Commanding an unrivalled breadth of reference and depth of insight, the book is a must-read for everyone interested in detective fiction.'


Nicholas Roe, University of St Andrews





'In this sustained analysis of the emergence and development of detective fiction in England and America, Charles Rzepka has produced both a compelling cultural history and a skilful demonstration of what Poe aptly called "the moral activity which disentangles". It will become an indispensable guide to serious students of detective literature.'


Ronald R. Thomas, University of Puget Sound.
Polity Press, 9780745629421, 273pp.
Publication Date: October 1, 2005
About the Author
Charles Rzepka is Professor of English at Boston University.