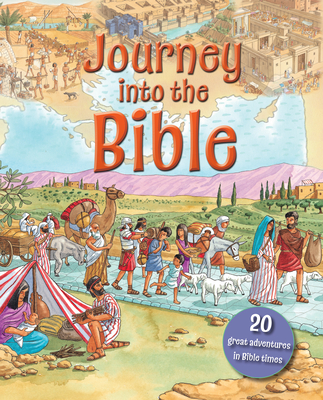 Journey Into the Bible (Hardcover)
Lion Publishing Plc, 9780745960883, 47pp.
Publication Date: April 1, 2011
Description
Fascinating facts, "travel tips," intriguing pictures, and maps combineto take young explorers on atime-travelingtour of the ancient world of the Bible and its peopleDrawingthe readerinto foreign lands and epic journeys, from the beginning of time itself, this book offers a tourist's-eye view of the people and empires that provided the setting for the Bible's great stories. Each stop on the journey allowsyoung readersto learn about the people and events associated with that place as well as offering astonishing glimpses of what archaeologists have uncovered. "Travel tips"offer useful information for the time-travelingjourneywhat food and weather to expect, where to stay, what sort of festivals might be happening, and what souvenirs are worth looking out for Thisenjoyable reference work full ofstylish and expertly researched illustrations and numerous photographs, maps, and diagramsoffers afresh, non-fiction approach to the Bible.
About the Author
Lois Rock is the author of numerous children's titles that have been translated into more than 30 languages, including "My Very First Bible," "My Very First Christmas," "A Child's First Book of Prayer," and "The Lord's Prayer and Ten Commandments." Andrew Rowland is the illustrator of suchtitles as" Little Lizard's Family Fun" and"The Not-So-Wise Man." He was the recipient of theMacmillan Prize for Children's Picture Book Illustration."
Advertisement