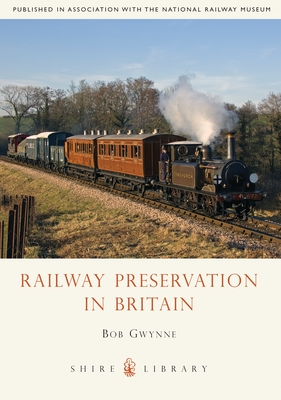 Railway Preservation in Britain (Paperback)
Shire, 9780747810414, 56pp.
Publication Date: July 19, 2011
* Individual store prices may vary.
or
Not Currently Available for Direct Purchase
Description
Sixty years after a disparate group of railway enthusiasts came together in a remote corner of rural Wales to run a train service - a true story that inspired the Ealing comedy The Titfield Thunderbolt - 'heritage railways' are a serious matter, bringing visitors, employment and a sense of local identity to regions throughout Britain. Bob Gwynne tells the story of this phenomenon and looks at the range of challenges that have been overcome to create the vibrant world of the Heritage railway that we enjoy today. The book ranges from the origins of railway preservation through to 'new build' locomotives like 'Tornado' and shows how once-discarded backwaters of the national network have become flourishing enterprises, some of which are even now slowly being re-integrated into Britain's transport mix.
Preserved railway lines today attract over 6 million visitors and total over 400 miles of railway. Forty years after the end of steam on Britain's rail network, an army of over 13,500 volunteers and a small number of paid staff ensure that most of these lines run on steam, at their best a living breathing museum of Britain's railway past.
About the Author
Bob Gwynne is Exhibitions and Creative Content Developer at the National Railway Museum in York. He has had a lifelong interest in railway history and rail travel and is the author of Shire's Flying Scotsman.
Advertisement