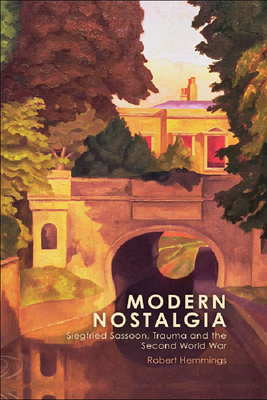 Modern Nostalgia
Siegfried Sassoon, Trauma and the Second World War
Hardcover

* Individual store prices may vary.
Description
This book explores Siegfried Sassoon's writing of the twenties, thirties and forties, demonstrating the connections between trauma and nostalgia in a culture saturated with the anxieties of war. Informed by the texts of Freud, W.H.R. Rivers and other psychological writers of the early twentieth century, as well as contemporary theorists of nostalgia and trauma, this book examines the pathology of nostalgia conveyed in Sassoon's unpublished poems, letters and journals, together with his published work. It situates his ongoing anxiety about 'Englishness', modernity, and his relation to modernist aesthetics, within the context of other literary responses to the legacy of war, and the threat of war's return, by writers including Edmund Blunden, Robert Graves and T. E. Lawrence. This study teases out the relationship between nostalgia, trauma and autobiography, and forges connections between the literatures of the two world wars. As a case study of modern nostalgia, this book offers an alternative to the perception that Sassoon's historical and cultural relevance touches the First World War only.Key Features*Provides the most thorough, eloquently crafted and focused revisionist study of Siegfried Sassoon to date*Sets Sassoon's work in new contexts and offers Sassoon as a case study for new ways of remembering war*Taps into current theories of trauma, nostalgia and memory*Establishes continuities between the literary culture of the First and Second World Wars.
Edinburgh University Press, 9780748633067, 168pp.
Publication Date: September 1, 2008
About the Author
Robert Hemmings is an Assistant Professor in Culture and the Arts, and English Studies at the Muskoka Campus of Nipissing University. His work on nostalgia and modern subjectivity has been published in such journals as Children's Literature, and Literature and Medicine. His current research involves materiality and objects of mobility - including the bicycle, the automobile, the armoured car, and the aeroplane - in modern British culture. He lives in Hamilton, Ontario.
or
Not Currently Available for Direct Purchase