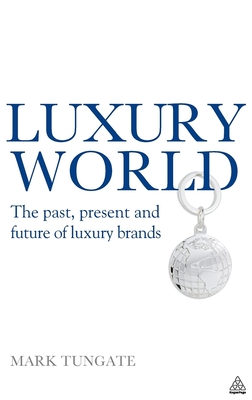 Luxury World (Hardcover)
The Past, Present and Future of Luxury Brands
Kogan Page, 9780749452636, 241pp.
Publication Date: November 1, 2009
Description

The word "luxury" has almost lost its meaning after being hijacked by a multitude of aspiring commoditites. So what is real luxury? Which are the genuine luxury brands? Who are their customers - and how do luxury brands attract and retain them? Above all, where can the industry turn now that excess is out of fashion? Fast-moving, entertaining and full of exclusive interviews, Luxury World takes you on a voyage around the luxury universe during a period of change, slipping behind the facades of the world's most sophisticated businesses to show how they function. Among other destinations, best-selling author Mark Tungate visits: Swiss watchmakers; the Champagne houses of France; the diamond district of Antwerp; the luxury enclave of Monte Carlos; the discreet ateliers of the last craftsmen; a host of brands in Paris - the self-proclaimed capital of elegance.
About the Author
Mark Tungate is a journalist specializing in marketing, media, and communication. He is the author of best-selling Fashion Brands, as well as Adland: A Global History of Advertising, Branded Male and Media Monoliths (all published by Kogan Page). Based in Paris, he has a weekly column in the French media magazine Strategies, and writes regularly about advertising, style and popular culture for the trends intelligence service WGSN. His work has appeared in The Times, The Independent and the Daily Telegraph newspapers. He is also the co-author of The Epica Book, an annual review of the best European advertising. In addition, Mark teaches courses about marketing, media and communication at Parsons Paris School of Design. He has addressed conferences around the world and has been on the juries of several advertising competitions. For more information, see www.tungateinparis.com.
Advertisement