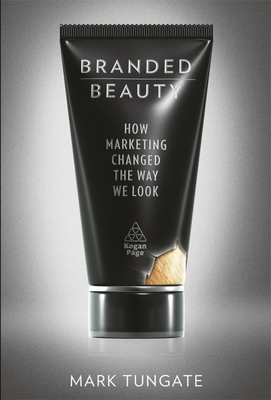 Branded Beauty (Hardcover)
Kogan Page, 9780749461812, 288pp.
Publication Date: October 20, 2011
* Individual store prices may vary.
Description

Beauty is a multi-billion dollar global industry embracing make-up, skincare, hair care, fragrances and cosmetic surgery. Over the years, it has used flattery, seduction, science and shame to persuade consumers that they'll have to invest if they want to look their best. In Branded Beauty, Mark Tungate delves into the history and evolution of the beauty business. From luxury boutiques in Paris to tattoo parlors in Brooklyn, he talks to the people who've made skin their trade. He analyzes the marketing strategies used by those creating and selling beauty products. He visits the labs where researchers seek the key to eternal youth. Tungate covers a vast array of topics including: the origins of beauty, the importance of scent, designer fashion and beauty, using marketing to find a niche, celebrity marketing, masculine beauty, beauty around the world, cosmetic surgery becoming mainstream, tattoo artists, organic and sustainable beauty, the future of beauty and, ultimately, the price of beauty. Full of fascinating detail on great names such as Revlon, Estee Lauder, L'Oreal and Max Factor, Branded Beauty looks at the history of the beauty industry and considers its future.
About the Author
Mark Tungate is a journalist specializing in marketing, media, and communication. He is the author of the books Adland, Fashion Brands, and Branded Male. As a journalist, Mark has written for publications such as The Times, The Telegraph, and The Independent. He has a weekly column in the French media magazine Strategies and writes about marketing, fashion and design for the website Stylus.com. Alongside his writing, he teaches at Parsons Paris School of Art and Design.
Praise For Branded Beauty…
"Tungate's descriptive writing and cliffhanger chapter endings make the biographical portion of the book both fascinating and highly entertaining… Tungate's arguments are well-researched and his findings on an industry that is notoriously secretive are enlightening and often surprising. …should not be seen as a critique of cosmetic companies. Rather, it is an in-depth look at how the industry developed and where it stands today. After all, Tungate's specialty is marketing, as an instructor of branding and advertising courses at Parsons Paris School of Art and Design, as well as the author of several books and columns regarding advertising. The story of how a few men and women revolutionized marketing strategies as well as public opinion on beauty is indeed enthralling and Branded Beauty will be valuable for anyone interested in a behind-the-scenes look at one of the world's most ubiquitous industries." -- ForeWord Reviews

"...[an] objective examination of the beauty industry...Mark Tungate cannot help placing the case before us in an admiring light...[He] goes through the histories of virtually all the major and growing companies selling beauty products in sharp, upscale magazine prose...with a certain twinkle and smile to his writing voice that makes for a relaxed and informative book." --By the Book Reviews 

"[Tungate] is to be congratulated for this unique work on the business of beauty, which has obviously changed the way we look."Review from Biz India

"...[A] stellar example of non-fiction -- just good journalism and engaging, clean writing. ...It is excruciatingly well researched, with chapter notes and [a] bibliography... Mr. Tungate takes us along with him as he visits the scientists and marketers that enable our beauty, inserting himself into the story in little episodes so we can experience what he does." -- Christine Frank, goodreads.com

"...[A] great read." -- Pierce Mattie Public Relations

"...interesting histories of the famous names in the cosmetics industry - Elizabeth Arden, L'Oreal, Revlon, etc. …[A] fascinating history of and glimpse into the modern beauty industry. If you like books like Why We Buy, this is a great one to look at for an industry-specific view." -- Joy of Booking

"...Tungate chronicles the rise of the beauty business. ...The truth isn't always pretty but it is fascinating." --Deidre Woodland, Pursuitist

"I highly recommend this book for anybody who wants a comprehensive example of marketing in action, as well as for the everyday cosmetics consumer."--Shannon Hopkins, LuxuryReading.com

 "This book is a great read for anyone interested in the world of beauty, how it works from the inside and what the future is likely to bring..." --The Women's Room

"Readers will enjoy Tungate's storytelling, and he includes helpful bullet points that summarize each chapter. ...Chapters that discuss the rising popularity of tattooing, cosmetic surgery, digital marketing, and ethical and sustainable products are of particular interest and could be useful in forecasting trends.  ...Summing Up: Recommended. General readers and lower-division students." --CHOICE 

"…[A] kind of world encyclopedia of the history of beauty products and businesses…. Buy this for the cosmetics fans in your library as a reference guide." -- Kristin Fontichiaro, www.librarything.com 

Branded Beauty on Racked.com

From Amazon reviewers:
" Very good informative reading!" -- Federico Legorreta

"…[A] great factual History Book of the Cosmetics/Beauty Industry… A great read for sure." -- Rex Romanov

"...[A] very interesting read." -- Laurie Brown