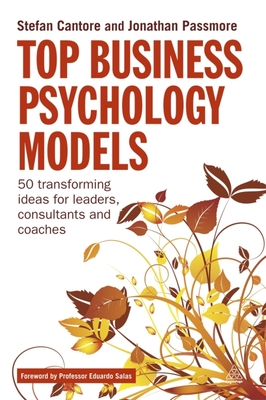 Top Business Psychology Models (Paperback)
50 Transforming Ideas for Leaders, Consultants and Coaches
Kogan Page, 9780749464653, 224pp.
Publication Date: August 28, 2012
Description

Within Industrial and Organizational Psychology, there are several models that coaches can use to help individuals to understand human behavior, emotions and cognition at work. Top Business Psychology Models is a quick, accessible overview to the fundamental theories and frameworks that can help explain ideas such as how to develop self-awareness, how to cope with change, how to deal with difficult people at work and what behaviors improve team performance. Each model is presented in a short and crisply written summary, which could be easily converted into materials for use in training or coaching. Clear, succinct and well referenced chapters also offer routes into accessing further information. Free of academic jargon, Top Business Psychology Models explains all the main theories and models used by psychologists, giving coaches, trainers and project leaders all the essential information to immediately implement business and positive psychology techniques in an organization. More details about the ideas in the book and some additional material on the authors' website: www.mondayspsychologists.co.uk.
About the Author
Jonathan Passmore is an occupational psychologist and a coaching supervisor. He has wide business consulting experience, having worked for PricewaterhouseCoopers, IBM Business Consulting and OPM, and as a chief executive and company chairman in the sports leisure sector. He is based at the School of Psychology, University of East London, and is Director for the Coaching and Coaching Psychology programs. He is the author of several books and editor of Excellence in Coaching and Psychometrics in Coaching. Stefan Cantore is a consultant in the areas of leadership and management development, with a focus on teaching leaders and organizations to use conversation as a process for change. He is also the co-author of Appreciative Inquiry for Change Management with Jonathan Passmore and Sarah Lewis (published by Kogan Page).
Advertisement