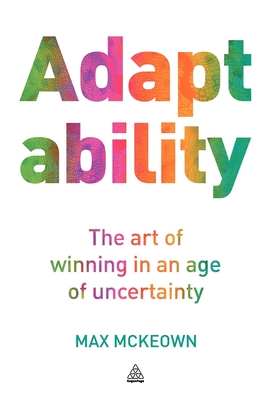 Adaptability
The Art of Winning in an Age of Uncertainty
Paperback

* Individual store prices may vary.
Other Editions of This Title:
MP3 CD (7/19/2016)
Hardcover, Spanish (1/15/2018)
Description
Adaptability is the key human trait. The ability to adapt faster and smarter than the situation is what makes the powerful difference between adapting to cope and adapting to win. Our history is a story of adaptation and change. And in this time of brutal competition and economic uncertainty, it has never been more important to understand how to adapt successfully. In a series of powerful rules, Max McKeown explores how to increase the adaptability of you and your organization to create winning positions. Fascinating real-world examples from business, government, the military and sport bring the rules of adaptability to life - from the world's most innovative corporations to street-level creativity emerging from the slums. Adaptability is a powerful, practical and inspirational guide to success in uncertain times.
Praise For Adaptability: The Art of Winning in an Age of Uncertainty…
"[T]he author's ingenious approach makes it useful in all endeavors… This enlightening motivational tool helps the individual determine where a problem exists and how to fix it… Backed by solid research and references, McKeown provides a common-sense guide to adapting beyond the point of mere survival." --ForeWord Reviews 

"[G]rounded in diverse, concrete examples, McKeown's advice is germane enough to appeal to anyone stuck in a rut--from entrepreneurs to established companies." --Publishers Weekly  

"McKeown's primary objective in this book is to help his reader to understand when, how, and why to adapt "faster and smarter than the [given] situation changes." …McKeown provides an abundance of information, insights, and counsel. …[he] is well-aware of the importance of survival to countless individuals as well as to countless organizations and even countries throughout the world. However, his hope -- one that I share -- is that those who read this book will aspire to accomplishing more, much more than survival." --Robert Morris

"I loved the examples…Without a doubt, yes, I would recommend this book." --Business Zen Blog 

"There are many books on strategy, one even written by McKeown, but Adaptability is different. In Adaptability, McKeown explains why the science of strategic planning might just give way to the art of reacting…or adapting." --The Leader Lab

"This is a book that a broad audience will find valuable; business owners, entrepreneurs, employees and maybe even students. Adaptability will tickle your brain and get you thinking in new ways about how you might handle things differently." --Small Business Trends

"McKeown offers case studies from companies you know, such as Starbucks, providing insight into familiar story lines. Some of his other examples aren't as famous but are just as compelling: He looks at civil war in Liberia, computer game development and Italian bureaucracy to flesh out his 17 rules …for adapting and, thus, succeeding. …[A]n eager reader can tease out techniques and ideas for becoming more adaptable, and McKeown offers warm, inspirational tales that provide general road maps for successful adaptation. getAbstract believes leaders of companies small or large looking to motivate their employees or themselves will find value here." --getAbstract

"I am a big fan of Max's writing style. He consistently makes the complicated simple, the difficult understandable, the philosophical real-world relevant, and the seemingly ordinary brilliant. He has an easy to read approach, but it took me a while to get through the book because I found myself spending time highlighting, underlining, making notes in the margins, and staring off into space contemplating the ideas presented. Good, good stuff. Adaptation is never easy. It requires letting go of the known, changing our perception, and jumping into uncertainty. Max shows us some ways to make the leap in the right direction." --Broc Edwards, Fool with A Plan

"History is not filled with stories of cultures or companies that managed to hold the status quo. History is filled with stories about those who dominated and those that disappeared. Companies need to figure out what being adaptable means to their organizations and how they use it to dominate. Max Mckeown's newest book is the road map they need." --Tac Anderson, Vice President, Head of Digital Strategies, EMEA at Waggener Edstrom

"...[W]ell written and well executed. The ideas Max McKeown puts forward are easy to understand. There are mind-blowing examples of individuals and well known companies adapting to and transcending new circumstances... A must-read in a time of uncertainty." --Pam McIlroy, Pamreader  

"I really enjoyed it. …this is a great book filled with compelling arguments. I would definitely recommend you to read it regardless of the size of organisation you work in." --RedHills.ie 

"Adaptability is undoubtedly a winner for the richness of examples that are introduced in support of each rule. The author's wide experience, together with considerable research, have resulted in plenty of up-to-date, topical material. ...The book is packed with ideas that should fire all managers' imaginations - as well as providing a very good read." --Professional Manager

"McKeown, an author, consultant, and speaker on strategy and innovation, enumerates 17 rules to help individuals and organizations increase their adaptability in an environment of uncertainty or in a changing situation." --Book News, Inc.

"McKeown does a great job in highlighting case studies that support his claims both from the political and business perspective." --Ingrid Helsingen Warner, LEIDAR
Kogan Page, 9780749465247, 222pp.
Publication Date: May 28, 2012
About the Author
Max Mckeown is an author, consultant and popular speaker in the strategy field. His list of clients includes many major corporations across multiple sectors, such as Microsoft, Virgin, 2012 Olympics, Sony, Barclays and Vodafone to name just a few. A well-known speaker on subjects such as innovation, engagement and competitive advantage, he is also the author of several books including E-Customer, Why They Don't Buy, Unshrink and The Truth About Innovation.
or
Not Currently Available for Direct Purchase