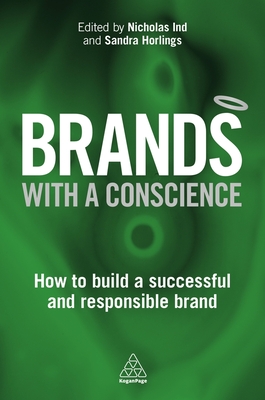 Brands with a Conscience (Paperback)
How to Build a Successful and Responsible Brand
Kogan Page, 9780749475444, 240pp.
Publication Date: March 28, 2016
* Individual store prices may vary.
Description
Editors Nicholas Ind and Sandra Horlings, along with chapter contributors provide a set of foundational attributes to help guide a strategy for responsible growth. These attributes span the public persona of an organization, the actions to take when things go wrong, the effort invested in developing relationships, the promotion of core values, and balancing success across various categories.
About the Author
Nicholas Ind is an Associate Professor at Oslo School of Management. He is the author of eleven books, including Living the Brand, Beyond Branding, and Brand Together (Kogan Page) and the founding member of the Medinge Group, an international branding think tank. Sandra Horlings is a branding and marketing consultant and specializes in sustainable business development in circular economies. She is a guest lecturer and corporate trainer, and she is the founder of both her own company, Wonderwings, and Wereldmarketeers (World Marketers), a platform for marketers and entrepreneurs to find information and inspiration on the sustainable innovation of marketing. Contributor Bios: Malcom Allan, Co-founder, PlacebrandsEnric Bernal, Senior faculty member, Center for Creative Leadership (CCL)Peter Brown, Head of Strategy and Development, Eat ClubGuiseppe Cavallo, Author and marketerThomas Gad, Founder, MedingeAva Hakim, Executive, IBMSudhir John Horo, Founding Direct and Principal Designer, IdeaWorks Design and StrategyOriol Iglesias, Associate Professor of Marketing, ESADEPhilippe Mihailovich, Brand strategistSimon Paterson, Founder, Paterson AssociatesAnnette Rosencreutz, Co-founder, BrandflightCristian Saracco, Founding partner, Allegro 234Nikolaj Stagis, Founder, StagisBrigitte Stepputtis, Head of Couture, Vivienne WestwoodErika Uffindell, Director, Global Centre for Conscious LeadershipJack Yan, Publisher, designer, and entrepreneur