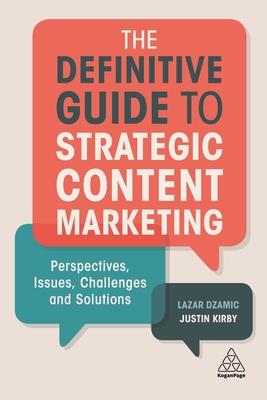 The Definitive Guide to Strategic Content Marketing (Paperback)
Perspectives, Issues, Challenges and Solutions
Kogan Page, 9780749482220, 288pp.
Publication Date: July 28, 2018
* Individual store prices may vary.
Description
Marketers everywhere are talking about content, but not everyone is saying the same thing. Some professionals love content and believe it has revolutionized the practice of marketing. To others, it's mere hype: a new name for what marketers have always done. The Definitive Guide to Strategic Content Marketing brings together all of these diverse perspectives, structuring them around useful key topics that provide insight into the multi-faceted nature of content marketing, featuring interviews with leading academics, industry experts, global thought leaders and influencers.
The editors of The Definitive Guide to Strategic Content Marketing weave different voices together to present a balanced view of content marketing, grouping the discussion around relevant subjects such as content monetization, native advertising, visuals vs video, and the challenge of measuring results. This structure allows readers to move through the book according to their interests, and cherry-pick the most useful aspects of each discussion to apply to their own marketing initiatives. Containing contributions from brands such as GE, General Motors, HSBC, Football Association, Diageo and Pernod Ricard, and agencies including Oglivy Group UK, Havas, Zenith, Vizeum, Accenture and more, this book is a truly unique resource. Online resources include bonus chapters.
With a foreword written by Tom Goodwin, author of Digital Darwinism and EVP, Head of Innovation at Zenith USA, this book contains insight and contributions from a wealth of A-list industry professionals and influencers, including: Tim Lindsay, Bob Garfield, Bob Hoffman, Faris Yakob, Thomas Kolster, Rebecca Lieb, Tia Castagno, Scott Donaton, Rober Rose, David Berkowitz, Professors Mara Einstein, Mark Ritson and Douglas Rushkoff.
About the Author
Lazar Dzamic is the former Google ZOO Head of Brand Planning for North and Central Europe (NACE), a creative strategist, writer and academic. He is an award-winning Planning Director in several integrated agencies, and lectures at the Faculty for Media & Communications at the Singidunum University in Belgrade.Justin Kirby is a consultant, educator and thought leader with a 20+ year career in industry as a digital strategist, producer and entrepreneur. He chairs and speaks at conferences around the globe, judges industry awards, and advises brands and agencies.