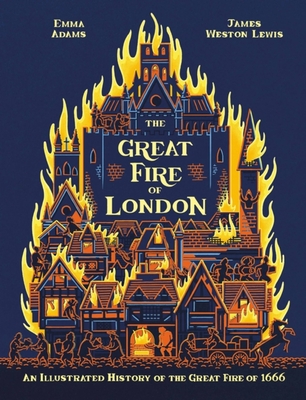 The Great Fire of London 350th Anniversary (Hardcover)
Wayland, 9780750298209, 48pp.
Publication Date: November 1, 2016
* Individual store prices may vary.
Description
In 1666, London's citizens woke to see the skyline above their city's cramped wooden houses ablaze. The Great Fire of London is a hauntingly beautiful visual re-telling of one of the most well-known disasters in the city's history. To commemorate the 350th anniversary of the fire, powerful and sumptuous drawings from the new east London illustrator, James Weston Lewis, bring the events of November 1666 to life in this stunning gift book.
Lewis's drawings take readers on a journey, from the single smouldering coal that falls out of the baker's oven to the swirling clouds of ash that engulf the city and then in to the very heart of the fire itself. As the pages turn, you can witness London burning to the ground and then rebuilding again.
Children will love examining the rich detail of each spread, from the detailed city map to the drawings of London before, during and after the fire took hold. This book takes the dramatic historical information surrounding the Great Fire of London and transforms it into a breathtaking story that will transfix readers of all ages.
About the Author
Emma Adams (Author)
Emma Adams grew up spending lots of her time in her local library, reading Roald Dahl books and imagining she was Matilda. Her love of reading turned into a love of publishing when she went to Loughborough University to study Publishing with English, and when Emma later started working on books for children it felt like the most natural thing in the world. Emma lives in Hackney, London.

James Weston Lewis (Illustrator)
Born in Bath, James moved to Oxfordshire when he was 5 where he grew up in a small village. He did an Art Foundation degree at Oxford Brookes University and then moved to Bristol to study Illustration at the University of the West of England, where he specialised in Print. James now lives in Lewisham in South London, and works as an Illustrator and Printmaker.
Praise For The Great Fire of London 350th Anniversary…
The story is clearly told ... The illustrations are reminiscent of the poster art of the 1930s and are presented in bold colours ... an attractive picture book for 8 years and over—School Librarian

The fact that I at my age am learning new things from these pages shows just how valuable this book will become [...] the school librarian will be more than pleased with this on their shelves [...] you'd probably have to wait til the 400th anniversary for a better book on this subject.—John Lloyd, The Book Bag

The dramatic story accompanied by striking print-block illustrations will captivate readers of all ages.—Victoria Rossiter, The Best New Children's Books Guide

Spectacular illustrations by James Weston Lewis at every turn of the page and a topic that's certain to become even more popular in schools later this year with the 350th anniversary of London's Great Fire: a recipe for success if ever there was one. [...] An exciting resource book for primary schools and any child interested in this chapter of London's history.—Jill Bennett, Red Reading Hub

James Weston Lewis' graphic drawings and the informative text follow the development of the fire ... This day-by-day account is really dramatic and shows the immensity of the fire and its impact on Londoners... This is a superb book that will really engage readers—Parents In Touch

Children will be transfixed by this book's stunning illustrations as it transforms a major disaster into a breathtaking tale.—Little London

...a timely and beautifully produced picture book that helps to explain to young children in KS1 what happened during those terrifying three days when so much of London was in flame. [...] Highly recommended.—Clare Childs, Reading Zone Librarian's Book Choice

...a stunning hardback that will fascinate people of all ages. [...] This is a superb book that will really engage readers with the story of the Great Fire of London.—Sarah Brew, Parents in Touch

. A dramatic and visually exciting book, and a fitting commemoration of the 350th anniversary of the Great Fire of London.—Books for Keeps

This strikingly illustrated account of the Great Fire of London brings an iconic story to younger readers with both clarity and drama.—Hannah Beckerman, Huffington Post

This has to be one of *the* most hauntingly stunning visual representation of The Great Fire of London that we've ever laid eyes on. This truly engaging read would be an asset to any library, classroom or bookshelf and will undoubtedly delight any reader, young or old. [...] We cannot recommend this glorious depiction of the Great Fire of London enough.—Sarah Yewman, Picture Books Blogger

This book takes the dramatic historical information surrounding the Great Fire of London and transforms it into a breathtaking story that will transfix readers of all ages.—Caroline Horn, Reading Zone
or
Not Currently Available for Direct Purchase